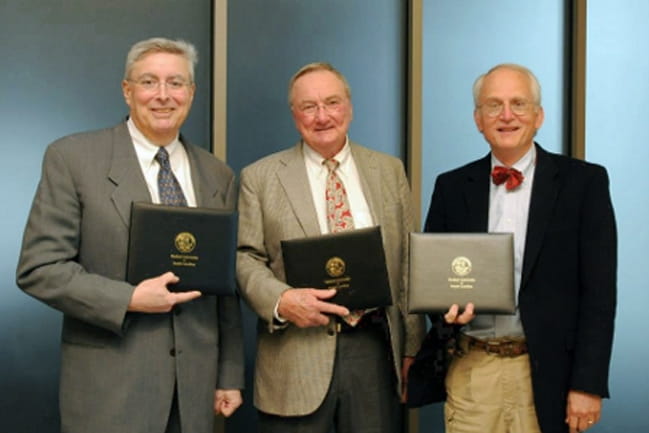 2013 Distinguished Alumnus Award Recipient Dr. Mark L. Braunstein '74 
Dr. Mark L. Braunstein was born in Walterboro, South Carolina on May 4, 1948. After graduating from Walterboro High School in 1965, Dr. Braunstein attended Massachusetts Institute of Technology, where he graduated with a BS in Physics and English in 1969. Dr. Braunstein then returned to the Lowcountry to attend the Medical University of South Carolina, earning his Medical Degree in 1974. He completed an internship in Internal Medicine at Washington University's Barnes Hospital in St. Louis, Missouri in 1975.
As a medical student at MUSC, Dr. Braunstein led a project to develop an early ambulatory medical record system that was one of three federally funded prototypes for COSTAR, the system upon which the current Veterans Administration's electronic medical record system is based. His system was described in a 1977 report to Congress by the Office of Technology Assessment as only one of four fully operational electronic record systems at that time. At MUSC, Dr. Braunstein also developed the first reported system for computerized drug interaction detection. That work became the foundation for PROHECA, a company he co-founded and the developer of the first clinically significant commercial ambulatory pharmacy system. PROHECA was acquired by National Data Corporation in 1981 and later evolved into NDCHealth.
Dr. Braunstein held numerous faculty appointments at MUSC before serving as Group VP and General Manager, Executive VP, and finally President and COO of NDC from 1987-1990. In 1991 he co-founded Patient Care Technologies(PtCT) at the Advanced Technology Development Center of Georgia Tech. PtCT launched the first commercially successful EMR for home health care and was also an early participant in the development of home-based telehealth technology. After PtCT was acquired by MEDITECH in 2007, Dr. Braunstein joined Georgia Tech as Professor of the Practice in the College of Computing, where he still serves today, building help programs in the use of clinical information and other medical technologies to improve the delivery of health care.
Dr. Braunstein has authored numerous publications including his latest, Health Informatics in the Cloud, and testified before Congress, to the Committee on Finance and the Senate Special Committee on Aging. His work has helped secure three grants, totaling more than $1 million. Dr. Braunstein was the recipient of the 1995 Innovation in Medical Management Award, the 1996 Entrepreneur of the Year Award among Emerging Companies, and the 2006 Founder's Award from the American-Israel Chamber of Commerce, Southeast Region.
2013 Distinguished Alumnus Award Recipient Dr. John P. Sutton '63
John Perry Sutton was born in Greenville, SC on June 11, 1939 and learned early on the value of hard work and determination. Having lost his father when he just three years old, Dr. Sutton took on numerous jobs growing up to help the family household. At an early age, he set his sights high on a career in medicine, and moved closer to that goal when he entered Furman University on an academic scholarship. After only three years, Dr. Sutton graduated from Furman in 1959.
Still set on his goal of becoming a doctor, Dr. Sutton convinced the owner of Daniel Construction in Greenville to award him a scholarship that was meant only for students who had already completed time in medical school. Dr. Sutton was so committed to his goal that Mr. Daniel gave him a scholarship to enter the Medical College of South Carolina, and then surely looked on proudly as Dr. Sutton was third in his class his first year, second the next year, and graduated first honor graduate in June 1963.
Dr. Sutton served as intern and Assistant Resident at Vanderbilt University Hospital from 1963-1966, then returned to the Medical College of South Carolina where he was Senior Assistant Resident and then Chief Resident in Thoracic and Cardiovascular Surgery. His academic appointments include Assistant Professor of Surgery and Assistant Clinical Professor of Surgery at Vanderbilt and Clinical Professor of Surgery at the University of South Carolina School of Medicine, where he has served since 1977.
Upon completion of his training, Dr. Sutton helped establish what would become one of the most respected and successful heart surgery programs in the South. With the support of the Sisters of Charity and some other forward thinking leaders, the Cardiac program at Providence Hospital was created and has become the renowned Providence Heart Institute. While he has watched the program thrive due to his tireless efforts to maintain the program's cutting edge status, the most rewarding accomplishment has been welcoming his only son into the same practice.
Throughout his career, Dr. Sutton has been admired not only for his expertise as a heart surgeon, but also for giving back to the hospital and community. He served as Chief of Cardiovascular Surgery from 1972 to 1980 and then Chief of Staff at Providence Hospital. Dr. Sutton continues to serve on the Board of the Sisters of Charity Hospitals in Cleveland, Ohio.
An avid outdoorsman, hunter and fisherman, Dr. Sutton and his wife, Lauren, now reside on Seabrook Island. They have one son, John Perry Sutton, III, and two grandchildren.
2013 Honorary Alumnus Award Recipient Dr. Stephen I. Schabel
Stephen Irwin Schabel was born in Chicago, Illinois on April 22, 1947. Dr. Schabel attended Washington University in St. Louis, where he earned Sophomore Honors and graduated with his B.A. in 1968. Dr. Schabel then returned to his hometown of Chicago for medical school, earning his M.D. from the University of Chicago in 1972.
Following medical school, Dr. Schabel performed both his Internship and Residency at the University of Rochester, in Rochester, New York. Dr. Schabel joined MUSC's Department of Radiology as an Assistant Professor in 1976, and has since served as Associate Professor, Director of Diagnostic Ultrasound, Director of Diagnostic Radiology, Professor, Acting Chairman and Vice-Chairman for Education. He has long been a well respected professor among MUSC's students and has received the Golden Apple Award from the American Medical Student Association at MUSC three times, in 1983, 1990 and 1999.
Dr. Schabel has committed his entire professional career to MUSC as a diagnostic radiologist and consummate educator. He has taught generations of MUSC medical students the principles of radiology as applied to medical practice. His weekly lectures are practical and always entertaining, and his unique teaching style is remembered by all attendees many years after graduation. Dr. Schabel has published 129 peer reviewed articles in medical journals and presented at numerous local and national meetings. He has tirelessly given many hours of service to both the Federation of State Medical Boards and the National Board of Medical Examiners.
Dr. Schabel and his wife, Nancy, have two children, Stephen Jr. and Kathryn, and have three grandchildren.