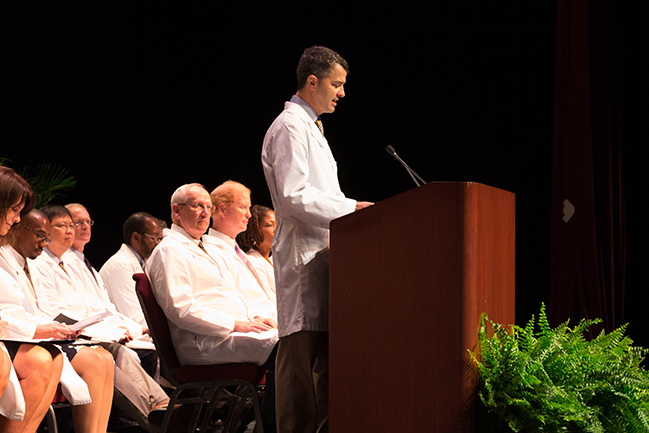 We sat down recently with the 2016 president of the College of Medicine Alumni Association. Fritz, as he is known to friends and family, spoke on his path to becoming an ENT, the changes he has seen in the field, and his early life in Turkey.
What is your current job description?
I am a partner at an independent otolaryngology head and neck surgery practice, Spartanburg and Greer Ear, Nose and Throat.
What about ENT appealed to you for your specialty area?
I enjoyed the mix of surgery and medicine.  I enjoyed the mix of inpatient and outpatient care.  Being able to see patients of all ages - from birth to the elderly, makes every day a pleasure.  I see newborns with tongue-tie to a patient that remembers Pearl Harbor firsthand.  I love hearing a patient's stories and helping them live as full of a life as possible.
Where did you complete your residency training?
I did a year of research at the University of North Carolina concentrating on Eustachian tube dysfunction and did my residency in otolaryngology, head and neck surgery at Albany Medical Center in Albany, New York.
What was the greatest lesson you learned at MUSC that you have carried with you?
The value of working as a team.  Learning with my fellow classmates, starting with my anatomy small group all the way through my hospital rotations, prepared me to work with my fellow physicians, nurses, medical assistants, audiologists, etc., to provide high quality healthcare with good outcomes for my patients.
What advice would you give to recent graduates who are in the early stages of their residency training?
Don't be afraid to reach out to your fellow MUSC classmates and alumni.  Early residency is when you will put to action all you learned at MUSC.  You will be prepared and able to handle the challenges.  Your fellow classmates and alumni are going through or have been through the same obstacles and can provide support and advice to help you through.
Why have you chosen to stay involved with the College of Medicine as an alumnus?
MUSC provided me a firm foundation from which I have been able to build my career.  I am proud of my MUSC education and pleased that MUSC continues to strive to become even better at educating future physicians.  I hope to be able to support MY medical school so that future physicians will be well trained to help us care for all of our patients, especially South Carolinians.
What have been the highlights of your time on the Alumni Board of Directors and as president of the College of Medicine Alumni Association?
I have had the privilege to interact with three Deans of the Medical School, Dr. Reves, Dr. Pisano and Dr. DuBois.  All three are wonderful leaders and have continued MUSC's advancement to be one of the best medical schools in the country.   Additionally, getting to know better the late Dr. Jim Edwards, an outstanding leader not only for MUSC but South Carolina and the United States.  He was president of the university when I was a student and our country could certainly use his leadership skills today!  Lastly, being able to address the class of 2020 before they started their first year was a real highlight.   To present each individual future alumnus with a stethoscope from the Alumni Loyalty Fund was incredibly special.  I can tell you that the future is bright for MUSC based on these bright young men and women.
What do you like to do in your spare time?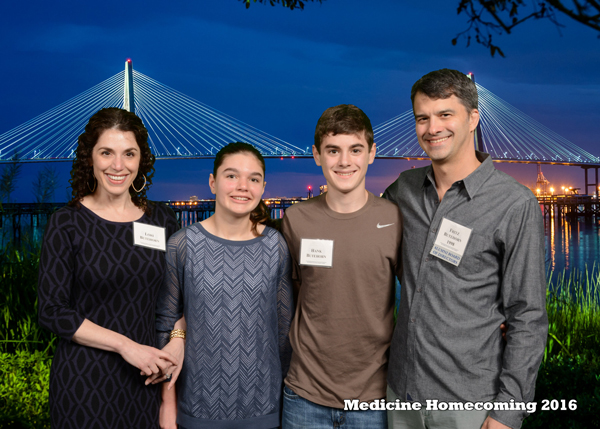 (What spare time?)  I enjoy traveling with my wife Lori and my two children, Hank and Sophie.  I am an avid sports fan and enjoy taking in at least one football and one basketball game a year at my alma mater, Duke University.  I am involved with the Spartanburg County Medical Society and am a Trustee for the South Carolina Medical Association.  I hope to make South Carolina a healthier place for our patients and for physicians.
Name a fun fact about yourself that very few folks know.
Some of my first memories are of Incirlik Air Base in Adana, Turkey, where my family was stationed.  I apparently spoke Turkish but have forgotten practically all of it.  This is unfortunate because when I was at Duke, the president of Turkey and I ended up in an elevator together.  The only Turkish I could conjure up was, "1, 2, 3, 4 eggplant".  I thought it best to keep my lingual skills to myself.