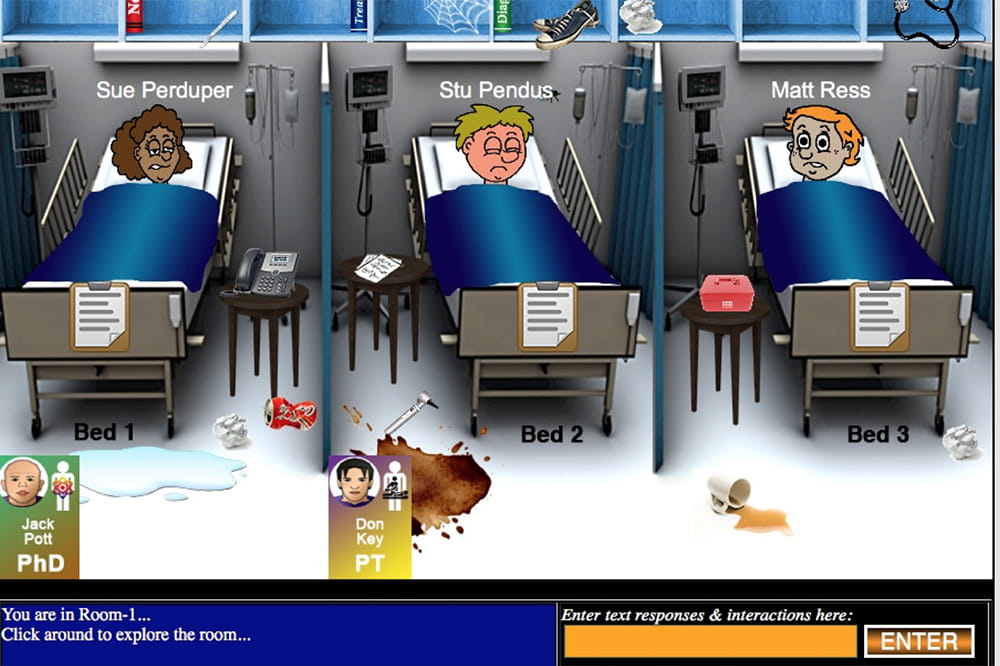 Universities do a great job teaching future health care professionals such as doctors, nurses, pharmacists and physical therapists about microbiology and physiology – but not such a great job teaching them how to work together as a collaborative unit, said Jeffrey Borckardt, Ph.D., a professor in the Department of Psychiatry and Behavioral Sciences at MUSC.
As the assistant provost for interprofessional initiatives, Borckardt spends a lot of time thinking about how to improve students' communication, collaboration and cooperation skills.
"We have a huge medical error problem in this country," he said. Many of those medical errors can be traced back to lack of communication, and the consequences can be deadly. Members of the Office of Interprofessional Initiatives brainstormed ways to teach students applied teamwork skills.
"The impetus was this teamwork problem we have in health care where we're killing people because we don't know how to communicate and work in teams."
The team considered a live-action zombie event with hired actors running around campus as undead corpses but, given the vagaries of Charleston weather, decided that plan was too much of a gamble. Team members considered doing an escape room event but decided showing up with 850 students was too impractical.
In the end, they settled on creating an escape room-inspired video game from scratch.
Called Sloppy Mountain Medical Center, the three- or four-player game revolves around a set of patients who must be discharged. Unfortunately for the players, the information necessary to diagnose and discharge the patients has been mixed up, so critical data about a patient in player A's room can only be found in player B and player C's rooms. And, of course, player A can't access those rooms but must first rely on cooperation from player B and player C to get the vital information. Meanwhile, players B and C are trying to get necessary information about their own patients.
Borckardt developed the game himself, and students have played it for the last two years during Interprofessional Day, which is held every January for first- and second-year students from all six colleges. The game is a lot harder than students expect, he said. In the first year, only 65 percent of teams were able to complete the game in the allotted 45 minutes. This year, 80 percent completed the game. Teams that don't work well together simply won't finish the game, Borckardt said.
"I think what it does is it puts people in a pressure cooker, and they're forced to work as a team," he said. "It does tend to augment teamwork flaws that individuals have. Sometimes we watch, and you'll find one person on the team suddenly withdraws and stops communicating. Someone else on the team gets very angry and starts blaming the failure on the game interface. Some people take charge of the whole thing and start telling people what to do. Some people start taking copious notes and passing them around."
Afterward, facilitators pose questions to get students to reflect on the experience. "We try to get them to be introspective about the team and their performance," Borckardt said.
Borckardt and colleagues began presenting the game at conferences, and an interesting thing happened – other universities wanted their students to play it.
That's when the MUSC Foundation for Research Development got involved. The foundation helps faculty members create startups and license technology. It advised Borckardt to create Palmetto Innovative Education, LLC, and then licensed the technology to the newly formed company, which now markets the game to individuals and institutions that want to play Sloppy Mountain Medical Center.
"We utilize commercialization as a means to spread the information and the technology," said Troy Huth, J.D., Ph.D., senior licensing manager.
With educational products such as Sloppy Mountain Medical Center, the goal isn't necessarily to be a huge moneymaker, he said. The product is often sold to other nonprofits at a break-even price, Huth said. The real goal is to distribute more widely the program to enhance teamwork and ultimately lead to better patient outcomes.
Borckardt said he has more conference presentations ahead where he'll talk about the objectives and learning outcomes of the game. He's also already started a new version of the game that may be less intimidating for non-medical teams: Zombie Rehab Clinic.
Suggest a Story
Have an idea for MUSC Catalyst News? Contact our editorial team and let us know.