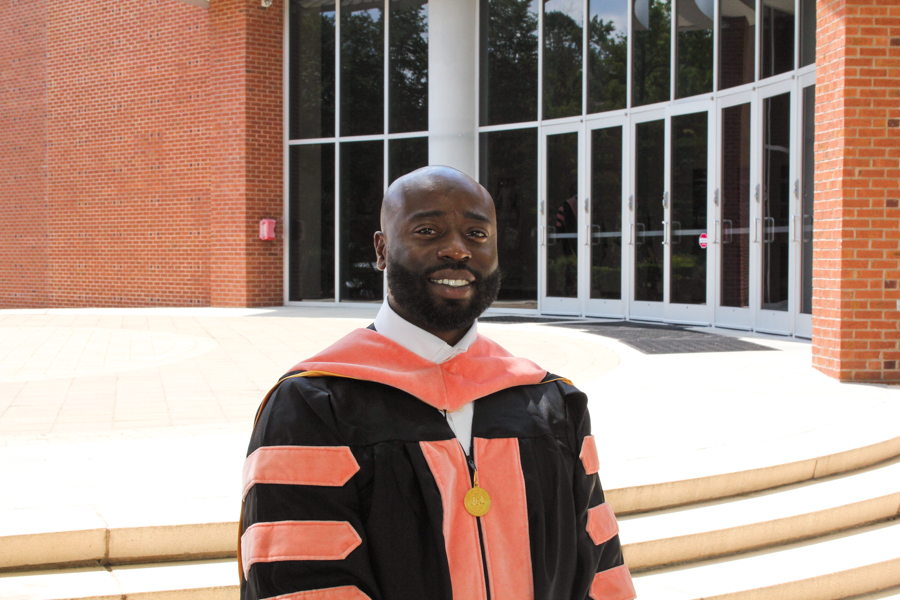 If you ask Shawn Gathers about his ties to MUSC, he'll just laugh and say he's "A lifer. I was born there; I'll probably die there."

And if you didn't know him you might laugh along, shrugging it off as joke from the Charleston native – but his roots really do run that deep. Since August 1979, when Gathers was born at MUSC, the university has been woven into the fabric of his life just like a member of his family.

Growing up, his pediatrics doctor was part of the MUSC system, his grandmother retired from there, and he's visited family members who were patients at the hospital for as long as he can remember. Now, after completing his doctorate in Health Administration from the College of Health Professions (CHP) last month and working as an Information Systems Executive Intern for the past year, Gathers is looking forward to beginning his one-year fellowship this summer.

"Now that I've earned my doctorate and I'm looking forward to the fellowship, I can take all of my experiences and start to build on them, start to figure out my next steps," Gathers said. "My preceptor for the health administration fellowship is going to be the Michael Caputo, MUSC chief information officer (CIO) for information systems (IS)."

The plan, Gathers says, is to eventually serve as an integral member of an executive team at a hospital or a hospital system, a path he was inspired to take after working alongside c-suite personnel throughout his time at CHP. He also hopes to become a professor of health administration to inspire future health care leaders.

"One of the great things about MUSC is that you can take advantage of professional development like certifications you may need or any training you want, so that's exactly what I'm going to do," he said. "I need to move into the next phase, starting with management and from there, the c-suite. I need to prepare myself for that track."

One would argue that everything up to this point in Gathers' career has prepared him for that track, but squeezing every bit of education and experience out of something is how he's progressed thus far. His career path has been, he admits, somewhat of a twisted one, but one that has contributed immeasurably to both Gathers' professional experience and his character.

Over the past 15 years, Gathers has touched nearly every aspect of the health care industry – in some cases literally. After earning a bachelor's degree in sociology from the University of South Carolina, Gathers' first job out of college was decontaminating surgical instruments in the basement of the MUSC Children's Hospital. Since then he's held positions at the Institute of Psychology, where he helped with inpatient psychiatric consultations, he's coordinated organ and tissue donations, and he's even taken courses in nursing school, back when he thought that was right for him.

Thus far, his greatest success has been in the field of information systems. Since 2011, on the heels of the Health Information Technology for Economic and Clinical Health (HITECH) Act, Gathers has been helping hospitals and hospital systems nationwide implement electronic record systems. In 2014, he hatched LionHart Solutions LLC, his own health information technology (HIT) consulting company, which he still runs on the side.

That varied experience, Gathers believes, coupled with the education he received at MUSC, is what will ultimately make him an invaluable member of an executive team.

"This is something I always believed was going to happen, just because I knew I wanted it and I was willing to do whatever it took to make it happen," Gathers said. "If it meant taking a job to get some experience in a particular tier of health care, I was willing to do it. If it meant leaving jobs to pursue degrees, I did it because I knew those were pieces of my puzzle I knew were going to get me where I wanted to get. I'm extremely proud. There were bumps and bruises, but we're all just trying to figure it out."

In addition to his bachelor's and doctoral degrees, Gathers holds a master's in public administration from Cappella University. He volunteers with the Father-to-Father Project and Project Hope for the Homeless, and he is a proud father to his 14-year-old daughter, London.
About the Author
Amanda Lawson

Keywords: MHA DHA