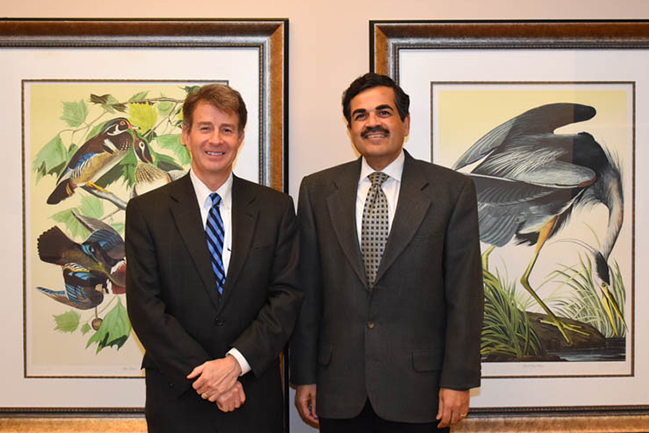 Dear CHP alumni and donors,
On behalf of the faculty, staff, and students, I would like to thank each of you for your commitment and dedication to the college!
As you saw in last month's issue, the new year is off to a great start here at CHP and we have many things to celebrate and new people to welcome. A new year is often associated with a fresh start and is the perfect time for us to reassess priorities and goals for the college. I have spoken a lot over the last year about our vision and updated you on our progress in reaching our strategic goals. And while we have made some tremendous progress, there is still much to be done. As a college, we remain committed to the initiatives outlined in our 2022 Strategic Plan. So, as we continue to move forward, I thought it important to remind us all of where we are heading in 2020 and beyond.  
It is the MUSC College of Health Profession's vision to improve the health of populations by developing and inspiring health scientists and leaders. This stems from an urgent need to address the societal crisis of chronic disease in America. According to the Centers for Disease Control and Prevention, one in two Americans lives with at least one chronic condition that consumes a significant amount of health care resources. To achieve our vision, our strategic plan outlines three priorities:
Train more health professionals through the growth of current programs and establishment of new programs in traditional, online, and hybrid formats. This priority will help us address the shortage of providers needed to care for the populations we serve.
Develop a robust health services research core to examine the cost effectiveness of the value-based care our professions provide through integrated health care teams.
Integrate closely with MUSC Health to engage providers in the training of our students and to translate research findings into clinical practice.
I hope you will join us as we work toward these initiatives. Now that our goals are clearly outlined, I'm pleased to share with you some of the things we have to celebrate this month at CHP.
Please join me in welcoming Jeff Verver, our new director of development. He comes to CHP with many years of development experience, most recently from Emory University.
Lindsay Loewer, MHA, faculty member in the Department of Healthcare Leadership & Management, was offered and accepted the role of director of strategic initiatives for CHP. Congratulations Lindsay!
The 2020 TIGRR workshop was held at Wild Dunes from Jan. 7 to 11. The workshop brought 37 post-doctoral scholars and junior faculty mentees together from top institutions across to the country to be mentored and receive guidance in grant writing for rehabilitation research.
Assistant Dean for Strategic Initiatives Naomi Sampson, MHA, retired last month after 30 years of service to MUSC. On Jan. 17, the college hosted a retirement party where she was joined by family, friends, and colleagues to celebrate her career.
I am so proud of what is being accomplished within our college and it could not be done without your support!
Zoher F. Kapasi, Ph.D., PT, MBA
Dean and professor
College of Health Professions