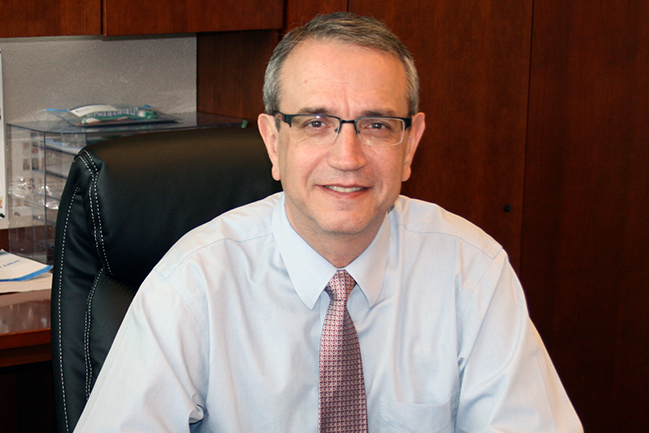 The James B. Edwards College of Dental Medicine is pleased to welcome a new associate dean for clinical affairs this year. Sorin Teich, D.M.D, MBA, and fellow of the American College of Dentists, brings a deep, multifaceted background in academics and business to his position at MUSC, including experience developing clinical curriculum and activities, implementing lean management systems, and developing and managing a number of biotech endeavors in the commercial sector.
Dr. Teich and his wife, Miriam, live in Mount Pleasant and enjoy exploring their new hometown. Since arriving in the U.S., Miriam has been a dance professor at Kent University and also worked with dementia patients through music and movement therapy programs in Ohio. They have two children, a daughter who lives in Chicago and works in marketing, and a son who is in dental school in New York.
A Global Background
Originally from Romania, Teich is a third-generation dentist. When he was a teenager, his family moved to Israel. He entered dental school in Jerusalem at age 21 after completing a three-year service in the Israel Defense Forces. One surprise awaited him at the start of his doctorate program: the textbooks were in English.
"That was a problem, as I didn't speak English … yet," laughed Teich. "I spoke fluent Romanian and Hebrew, and had very good proficiency in French, so I bought a dictionary and started to translate my dental textbooks word for word. To be successful, that's what we had to do."
After he graduated from the Hebrew University - Hadassah School of Dental Medicine, he stayed on as faculty and also went on to earn his Certificate in Prosthodontics. In the late 90s he left academia to work as an adviser, board member, and inventor for a number of biotech companies, including two startups he cofounded.
Teich earned his MBA from the Kellogg-Recanati International program at Northwestern University in Chicago and Tel Aviv University in 2004.
"Biotech life was very stressful, and the travel was intense. After 10 years I decided to return to practicing dentistry in a hospital and in private practice," Teich said. 
A few years later, he was recruited by Case Western Reserve University (CWRU) School of Dental Medicine in Cleveland, Ohio. During his nearly 12 years at CWRU, he served in many leadership roles, including as associate dean of clinical operations. Teich was responsible for a variety of system management areas directly related to the delivery of dental health care and clinical education within the CWRU School of Dental Medicine, including implementing lean management principles into evidence-based clinical practice.
A Vision for MUSC
Teich joined MUSC on Feb. 1.
"I've enjoyed a very warm welcome here," Teich said. "In fact, I've known of the great programs at MUSC for a long time. A few years ago, I met Dr. Mark Barry through an accreditation visit at Case Western Reserve and we struck up a relationship. He is incredibly smart and so personable; it really is an honor to be taking the reins from a friend like him."
In his first few months on the job, Teich has focused on meeting with administrators, faculty, students, and alumni.
"I've spent a lot of time listening and learning about what our strengths are and hearing about opportunities for improvement," he said. "As a fresh set of eyes, I hope I can help us create ways to streamline processes that will sustain and enhance our academic and clinical programs. I also would like to move toward a system that encourages our students to succeed, but also promotes concepts of professionalism and shared responsibility. I also believe we need to take advantage of our MUSC branding and work toward broadening the scope of the already strong relationship with MUSC Health."
Teich believes that academic institutions can benefit from the lean management approach that has its roots in manufacturing and has been adopted in finance, health care, and other industries. Lean management principles support the concept of continuous improvement, a long-term approach that systematically seeks to achieve small, incremental changes in processes to improve efficiency and quality.
"This is not necessarily a new concept in business, but it's new to academic institutions and can have so many benefits," Teich said. "I'm excited to see how we can work together to explore these principles here at MUSC and find new ways to look at how we're doing things."
A Personal Invitation
"I would like to invite our alumni to visit our campus. It would be a pleasure to meet you and take you on a tour — we have so many new and wonderful things going on here," Teich said. "We are literally building here the future of dentistry."