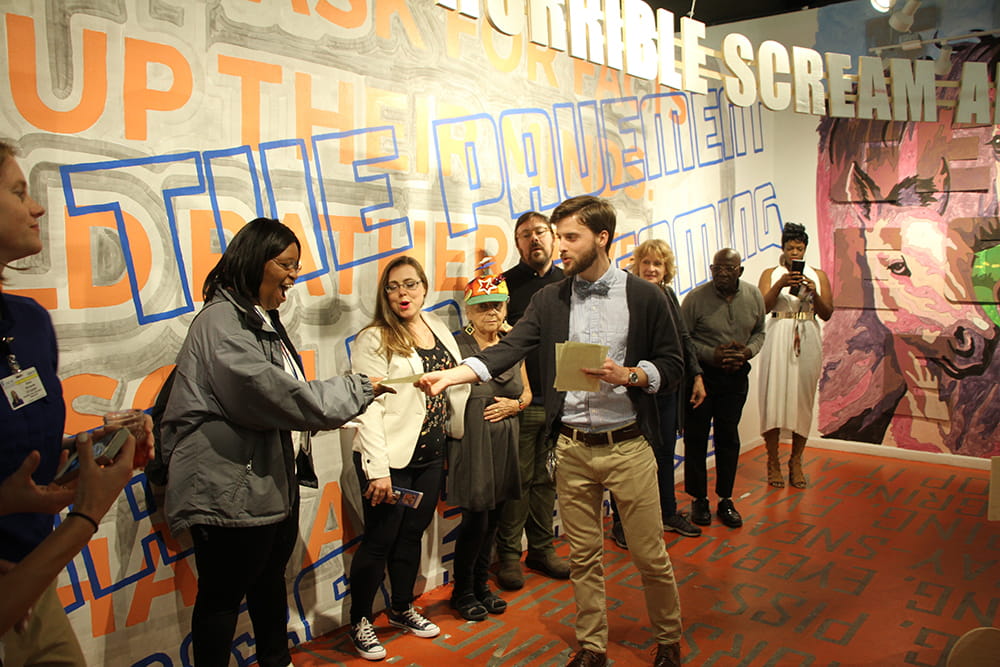 If a person can radiate joy, it's Celeste Gadsden, who is overwhelmed as she grabs a gift card awarded for a project that's part of the Charleston Clemente Course. Hanging behind her in the halls of the Redux Contemporary Art Center is her photo that's part of the gallery exhibit: Barriers to Healthy Eating in Charleston.
The other gleefully happy person is Ryan Kane, a third-year medical student at the Medical University of South Carolina, who's handing out the awards and whose service to the community garnered him the distinguished United States Public Health Service 2017 Excellence in Public Health Award. 
One of only 15 students chosen nationwide, Kane was recognized as a medical student who makes exceptional contributions to health and wellness in his community. 
It's an award well-deserved, says Mary Ann Kohli, Ph.D., a professor at Trident Technical College involved with the Charleston Clemente Course, an innovative program that's part of an international initiative dedicated to bringing the humanities to those who have been denied access to economic, cultural and social opportunities to help them develop their creative and critical-thinking skills.
Kane met with her to discuss the feasibility of a series of health workshops for the Clemente students. Kohli was impressed. 
"Ryan is a compassionate visionary who has a steely resolve to surmount the insurmountable. He remains undaunted and unflinching in a world that would make a business of the healing arts of medicine at the expense of the uninsured and the underinsured," she says.
"Ryan's dedication to medicine is all-embracing, global and holistic. In his pursuit of scientific knowledge and technique, he never loses sight of the human beings he serves."
That's true of the spirit of the Clemente Course, which provides its students with free tuition, books, bus passes and a meal each class. Students attend plays, concerts, ballets and lectures. They visit historical sites and go to art museums. This campaign, complete with the certificates earned by students who attend four out of the six workshops offered, was envisioned, founded, and first implemented by Kane, she says.
"He realized that health issues tended to increase in underserved and low-income populations and wanted to assist in disseminating information that might lead to more conscious choices. His idea is one that focuses on preventive measures and embraces the concept that when one knows better, one does better."
The MUSC Health Awareness Certificate program has been in operation for two years now and is a great success, she says. Around 15 to 17 Clemente students come to the classroom an hour before the class starts to attend the workshops given by presenters, who are all volunteers sharing their expertise. At one health screening, a Clemente student was discovered to have dangerously elevated blood pressure and was encouraged to go directly to the hospital. Without this discovery and intervention, the student could have possibly suffered a heart attack or a stroke. That workshop was a literally a lifesaver, she says.
This is the kind of work that Kane loves, his passion bubbling over so much that he was asked by the students to give one of the graduation addresses. 
"It was a nice honor for me," he says, adding that meeting the people in this course and at One80 Place Health Clinic, a free health care clinic where he also has volunteered, has been life-changing for him. He recalls a student, who served a lengthy jail term, who now has set himself on a new path and recently gave an elegant speech to the group. 
"You wouldn't have known his history. That was a striking thing for me to realize and for the whole public to realize. A lot of these people who are trying to better themselves are limited by maybe a mistake they've made or their environment growing up."
The program helps them get a second chance at a better quality of life. And he gets to see grateful students, such as Gadsden, who has had several members of her family die from complications of diabetes. During the gallery event, she showed off her photo and the page-long essay she wrote about what makes it hard for her to lose weight. "This helped me learn about all the things I was doing wrong."
Empowering Health
That's good news to Kane, because the goal is empowerment. 
When he served as a liaison to the One80 Place Health Clinic, Kane observed firsthand the challenges of this patient population and committed himself to better understanding the individual and systemic factors that can lead to homelessness. 
"You get to interact with these people on a deeper level and see what their needs are and see how much we should be doing as health providers and as community members to be encouraging the healthy positive behaviors that everyone should be able to do and everybody should have access to. There's a lot of need that still exists, so there's room to expand and create new programs."
Health care professionals sometimes get bogged down by all the flaws in the system. His answer: Pick one area and focus on making a difference.
"I like interacting with the community members, because that's where health happens. It doesn't really happen in the infrequent visits to a provider's office."
Kane credits his parents and religious faith for his strong drive to do community service. He grew up in Lake Wylie, S.C., on a YMCA campground called Camp Thunderbird, where his father served as director. 
Telling people he lived there for 18 years is always a good line at parties to get conversations going, he jokes. "It really shaped my perspective of what a childhood should be like. I was surrounded by all the Y values and seeing how my parents lived their lives."
His mother worked for an international branch of the YMCA, so he had the opportunity to do overseas mission trips with her. "I think that's where I developed an eye for the needs in the community — just from seeing the stark contrasts in places such as Russia and Brazil. Coming back here you think, 'Oh, well, the United States is really not so bad,' but then you see we really do have a lot of need in our communities that I think a lot of people overlook."
From an early age, he liked health care. He enjoys nature and plants and studied biology at Clemson. "Medicine was a nice marriage of community service and the sciences and scientific technology."
When he became a medical student at MUSC, he continued his community activism, including becoming a coordinator for the student clinic at One80 Place. As a member of MUSC's Gold Humanism Honor Society, he learned of the Charleston Clemente Course and its need for a health course. Kane, who serves as co-president of the Gold Humanism Honor Society, backs the group's goals of cultivating and maintaining compassion, humanism and scientifically excellent care in the medical field and admires the mission of its founder. 
"In the '80s, Arnold P. Gold, who was at New York Presbyterian, was realizing all these new technologies — the MRIs, the CT scans, all the lab work we can do — were boiling all our patients down to numbers and pictures on a computer rather than the person in front of us. We're just trying to maintain the humanistic piece of the medical field is the simple goal of the organization."
Paying it Forward
It's more than just lip service for Kane. 
In the fall, he will be taking a year off from medical school to attend the Harvard T.H. Chan School of Public Health's Department of Social and Behavioral Sciences. He's interested in how hospitals and doctors interact with their communities, so he sees himself in some sort of administrative role tasked with developing healthy communities. He has seen how policies and programs can make a difference and praises MUSC's involvement with the recent Tri-county Health Community Needs Assessment.
"Seeing the need in others is what drives me, and seeing how fortunate I was throughout my entire life and seeing all the opportunities I have been given in my life," he says. "It's having the desire to help other people have those opportunities and the ability to do what they want and to live as well as they can. I think a lot of times in medicine we get so focused on treating the disease and making sure they are alive, that we kind of lose the making sure they are living well piece of it."
In his ideal world, people would be aware of the rich health resources surrounding them and have access to that care, and the communities in which they live would cultivate a healthy environment that makes the healthy choice the easier choice. In this world, people would engage more in their own health. 
That's why he loved working with the Clemente students. 
"We want them to come out empowered and feel they can take control of their lives. It's getting the students to reflect on their own health, and it shows the community is interested in this discussion. It's getting people to think more about their health and the choices they make. I think a lot of time we're on autopilot and don't think much about our choices until we get sick."
The recent photo gallery project was one way to make this project come alive, infusing fun and more of a human thread into the conversation, he says. In high school he developed a passion for the arts, particularly visual arts. "It's a very therapeutic experience, but it also can be a very powerful and meaningful way to get a message across. Not only for the Clemente Course but also for humanism in medicine, incorporating the arts is a way to take back that humanity."
He's proud to see the content created for the health program being adapted for online use so it can be accessed and used by other Clemente Courses across the nation to improve health engagement in this underserved group.
This is his way of paying it forward.
"If you think about where you've gotten — wherever you are, whatever you're doing—there's always someone who has helped you along the way and offered you a helping hand. Why not pay it forward to someone else?"
Kohli, for one, is glad he and other MUSC students feel that way. She says the care and compassion shown to the Clemente students by MUSC volunteer presenters mean the world to them. Disenfranchised people are often marginalized or overlooked by society at large. The opposite happens with the Health Awareness Certificate Program, where they are valued and considered important. As a result, students look forward to the workshops and are appreciative of the concern and care with which they are treated, she says.
"In truth, such 'treatment' is probably one of the best cures for all physical and social ills." 
Undivided attention and care is a balm to the soul, and being deemed "valuable" is healing at its best," she says. 
"He realizes that to treat and heal a person, one must treat and heal a community, for one cannot survive and thrive without the wellness of the other. If anyone deserves this award and others like it, it is Ryan, for our society itself is in desperate need of healing. It is the far-seeing men of healing, like Ryan, who can begin to put us all back together again."