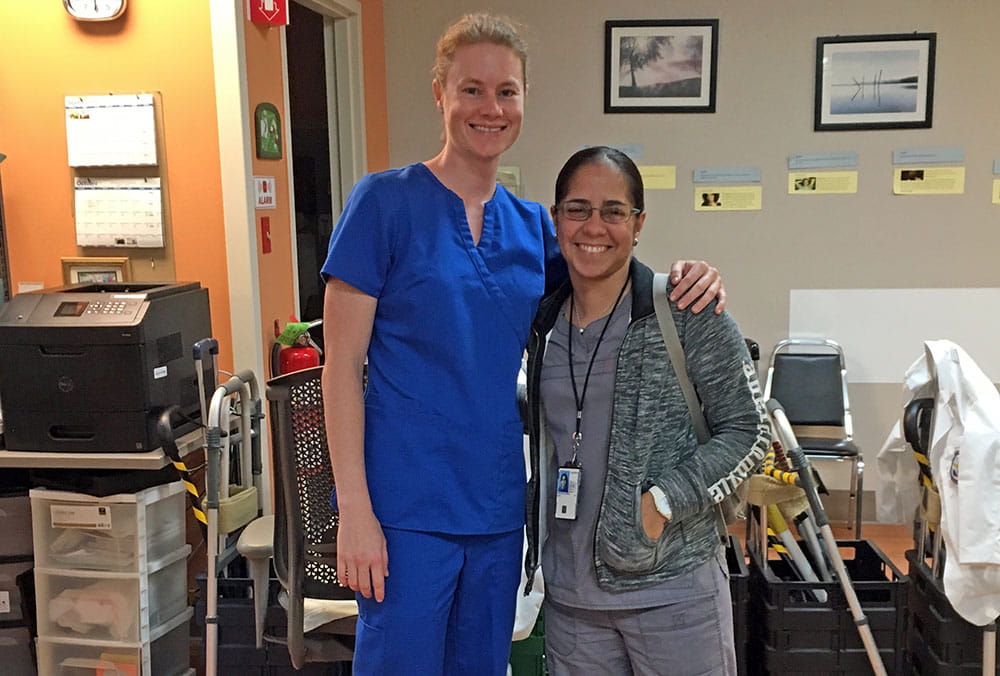 Charleston native Dana Richards has come full circle. After having traveled, lived and worked around the world, she returned to Charleston and is now graduating from the College of Health Professions' Doctor of Physical Therapy Program. Fluent in Spanish and English, Richards lived in Spain and Puerto Rico and used her love and talent for foreign language to explore and excel in the professional arena.
Unsure of a career path when she graduated from the University of Virginia with a double major in environmental science and Spanish, her time abroad enabled her to find her passion, which she discovered is working with the Hispanic community through physical therapy. Eight years after her move to Spain, she graduates from the Medical University of South Carolina as a Doctor of Physical Therapy. She's looking forward to getting started in the position she has lined up, which allows her to stay in the Lowcountry, and she will continue to volunteer at clinics where her Spanish skills and cultural knowledge support her work with Charleston's Hispanic community.
When she left college, Richards wasn't sure how to parlay her degrees into an actual career, but she was sure of one thing: her passion for speaking Spanish. While none of her family members are native Spanish speakers, her elementary school, Charleston's Buist Academy, emphasized the importance of foreign language, incorporating the study of Spanish into her kindergarten education. She continued to study Spanish throughout middle and high school and into college, at which time she studied abroad for a semester in Spain, taking five classes in Spanish. Her devotion to the language extended past her academic career and eventually guided her to pursue her passion. She moved back to Spain to teach English, where the pieces began to fall into place.
Through the North American Language and Culture Assistants Program, Richards moved to a town of 5,000 people in north central Spain  and later to Santander,Spain, where she lived for a total of three years, teaching English at various high schools. Richards reflected on the friendliness of the people she met and worked with there and how fond she was of the experience. Though the teaching program is usually only two years long, she asked to stay for a third and was granted permission. During her time there, Richards taught conversational English to a physical therapist, who shared extensive details of that profession. Her description intrigued Richards, and she began envisioning a clearer career path for herself.
While she had originally considered going to medical school after graduating from UVA, she ultimately decided against it. The idea of physical therapy, however, struck a chord with her, especially considering Richards likes to be active and participate in health care.
She began taking physical therapy classes in Spain, but soon she realized the process differed quite drastically from the typical programs in the United States. In Spain, students enroll in a four-year bachelor's program as opposed to earning a doctoral degree as is the case in the U.S. Richards worked hands-on with patients at the local clinics where she spoke Spanish. At that point she was fluent in the language.
After two years of physical therapy training in Spain, Richards had developed such passion for the work that she decided it was in her best interest to earn a doctoral degree in the U.S. This degree would allow her to operate at the highest levels of professionalism, which appealed to her greatly. She applied to MUSC and was accepted, eager to begin studying back in Charleston, especially as part of a Doctor of Physical Therapy program that ranked 28th in the nation out of 233 accredited programs.
Upon her move back to the Lowcountry and enrollment at MUSC, Richards recognized the value of her time abroad. "What I got the most out of my experience was my knowledge of medical Spanish, which for me has been huge, because coming back here, I've been able to use it so much."
Since her return home, she has been able to help serve the Hispanic community in Charleston, which she says is often underserved, volunteering as a medical interpreter at the Barrier Islands Free Medical Clinic on John's Island. She also volunteers weeknights at MUSC's CARES Therapy Clinic, a pro-bono student-run clinic that provides physical, occupational and speech therapy to underserved patients, including many native Spanish speakers. She says that without her "language connection," treating these patients as effectively would not be possible, and because of that, she is able to play an important role in their medical care. This work gives Richards tremendous fulfillment, and she said she will be able to use her cultural knowledge for the rest of her life.
After working in both Spain and the U.S., Richards has had the chance to reflect on her experiences and acknowledge the differences between the two cultures. Her takeaway? Physical therapy in Spain incorporates massage and dry-needling into the plan of care more often, and physical therapists are more reliant on physicians for the initial physical assessment of the patient compared to in the U.S. On the other hand, in the U.S., as she has learned at MUSC, assessing the patient and then deciding on a specific method of treatment is always the first step. Richards has realized that as a student, it is important to continue to learn, especially when working with foreign-born patients.
"The more that I can get out there and treat patients and work with people, the more adept I will be," she said. That's why it is important to her to continue to explore the Spanish-speaking world.
During the three-year physical therapy program, students go through clinical rotations where they learn and work in clinical rather than classroom settings and gain valuable hands-on experience under the guidance of seasoned practitioners. To continue to expand her knowledge base and improve even further her ability to work most effectively with Charleston's Hispanic population, Richards decided to study in Puerto Rico, though no student had done so in years.
She began her 10-week clinical affiliation in August 2017 at a hospital in San Juan. Unfortunately, during her second week there, Hurricane Irma struck, followed quickly by Hurricane Maria. Both storms caused horrific damage to all parts of the island and cut her clinical affiliation short by weeks. Though she was forced to return to Charleston, she completed her rotation at another hospital and hopes to return.
Following her passion for the Spanish language around the world led Richards to a much-loved career. She finds it both exciting and rewarding to treat Hispanic patients in the U.S., who, because of language and cultural barriers, often do not receive the care they need. Her travels, she said, not only infused her with knowledge of the language but also the overall culture. She feels these experiences have been vital to her understanding of Charleston's Hispanic population and, most importantly, her ability to work with them.
Her generous spirit and heart for people has not gone unnoticed. Debora Brown, PT, DPT, assistant director of the Division of Physical Therapy and director of clinical education, worked very closely with Richards' during her time in the program and in Puerto Rico. She couldn't speak highly enough of Richard's commitment to caring for the Hispanic population.
"Dana has always had a heart for service. As a student during the program, she volunteered as a Spanish medical interpreter with CARES Therapy clinic, Alliance for Hispanic Health and Barrier Islands Free Medical clinic. When her internship in Puerto Rico was interrupted by hurricanes, Dana's first concern was missing time at the hospital to provide care for others. She is a generous and selfless person and the MUSC Physical Therapy Program is proud to call her one of our graduates," said Brown.
Richards hopes to travel to more Spanish-speaking countries in the near future, and she is excited for what lies ahead after graduation. She looks forward to using her broad experience and understanding of the culture to work closely with the local Hispanic community.
About the Author
Jenna Lief

Keywords: Education