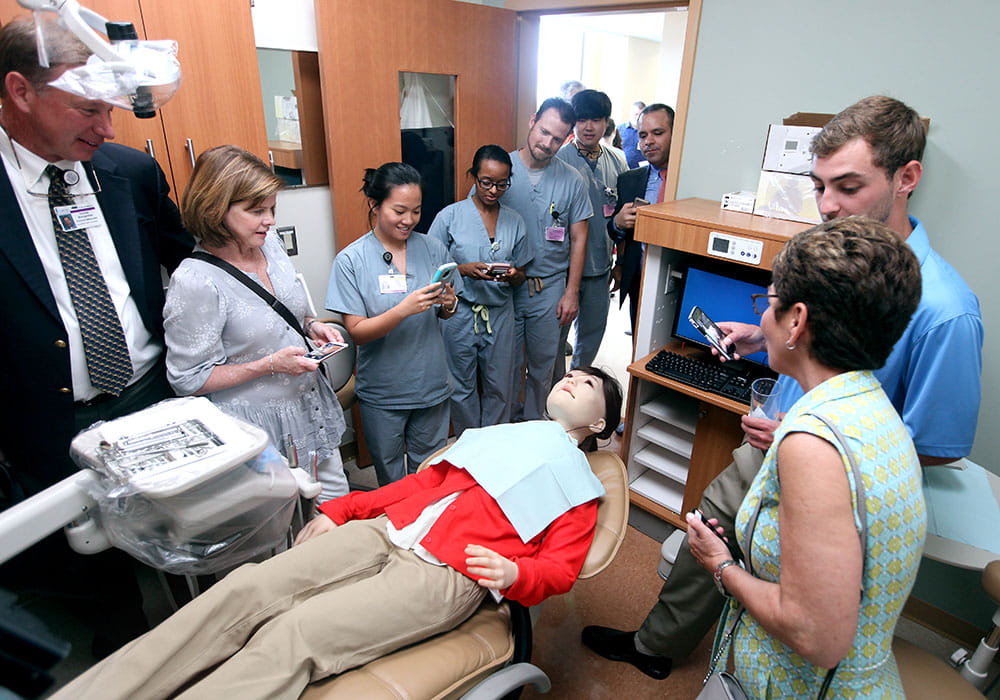 The James B. Edwards College of Dental Medicine at the Medical University of South Carolina has become the first dental school in the country to have a Dentaroid teaching robot. "Hanoko" made its debut on Friday, Aug. 10, during a ribbon-cutting ceremony and demonstration to a large group of dental faculty, alumni and guests.
The crowd included Pat Cawley, M.D., who is chief executive officer of MUSC Health and vice president for Health Affairs of MUSC; Lisa Saladin, Ph.D., who is executive vice president for Academic Affairs and provost; students; MUSC Board of Trustees members and dentists James Lemon, DMD and Paul Davis, DMD; and representatives from Nissin Dental Products of Japan and Kilgore International — the project's donors.  
Nissin and Kilgore made the Dentaroid robot a gift, valued at $250,000, to the College of Dental Medicine. Mike Gregory, president of Kilgore International, said he was excited to be present at the robot's debut and demonstration. 
"This is a big day for Kilgore International, Nissin Dental Products and MUSC. This is the first robot of its kind to be placed at a dental school in North and South America. MUSC's College of Dental Medicine is a leader in innovation, digital technologies and in other areas. We have been a partner with MUSC's dental school for 25-plus years, so for us to be able to showcase this unique product in one of the country's top dental programs is very exciting," Gregory said.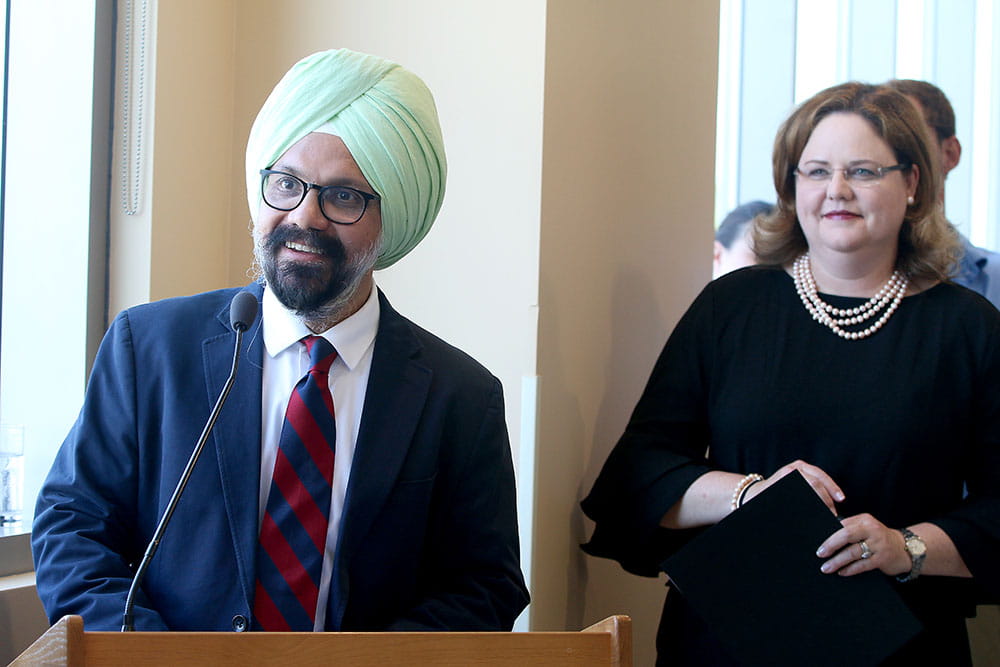 Dental Medicine Dean Sarandeep Huja, DDS, Ph.D., said in a way, Kilgore and Nissin are 'parents' to MUSC's Dentaroid. "We are proud that the James B. Edwards College of Dental Medicine is the recipient of the very first dental robot in this part of the world. It's a landmark day for U.S. dental schools and for MUSC."
As the popularity of robots grows within manufacturing and other areas worldwide, the demand for innovation and cutting-edge technology has brought robots and high-fidelity manikins into medical-simulation training, robotic surgery and some medical-skills training. Leaders at the College of Dental Medicine hope the same will be true in dental education.
Monica Cayouette, D.M.D., M.S., associate professor and chair of the Department of Oral Rehabilitation; and Walter Renné, D.M.D., professor and assistant dean of innovation and digital dentistry; led the quest to get the dental robot.
In 2013, the two dentists met with Gregory at Kilgore International in Michigan. Kilgore makes dental study models, robot systems and supplies used in dental education. It has a long relationship with MUSC's dental school. Kilgore and MUSC expressed their mutual interest to join forces in a collaborative effort. 
Then, it was on to Japan, where Cayouette and Renné talked with representatives of the manufacturing company Nissin to discuss a collaboration. The pair also met with Koji Yokoe, Nissin's president, who gave the project the green light. It was then Hanoko was essentially conceived. 
A few months ago, the Dentaroid was introduced at the American Dental Education Association meeting. Following that meeting, the MUSC College of Dental Medicine arranged to ship the robot to Charleston. 
Since then, Cayouette; Renné; two dental research students, Spencer Fair and Gray Thomas; plus a robot support and maintenance team; have worked to understand Hanoko's capabilities. They say the interactive robot is fairly lifelike, both visually and texturally. The advanced verbal communication system and various body movements of its head, mouth, tongue and left arm make working with the robot similar in a lot of ways to working with a real patient. 
The robot, combined with a newly established teaching-observation area that features cameras, recording devices, computers and an instructor control panel, creates a high-fidelity teaching tool for the school's dental programs, students and faculty. 
But Hanoko's primary role will be for use in dental education and training, as a tool to instruct and educate dental students. The robot will be incorporated into MUSC's dental curriculum to train and evaluate students and test their dental skills. 
Currently, Cayouette is managing the Dentaroid's use in a pilot study, focusing on oral medicine, dental simulation and restorative dentistry. She's working with faculty to incorporate the Dentaroid in all areas of dentistry and hopes to collaborate with other leaders throughout MUSC.
Cayouette and Renné can also see the Dentaroid an important role in helping to test students' dental clinical competencies through the Objective Structured Clinical Exam. The effort will provide an objective, standardized method of training that can reduce the time and costs associated with using live patients in training.
"This OSCE-based training falls in line with both the Council on Dental Accreditation and now the American Dental Association's 2020 vision for the National Dental Licensure Examination development. By including the Dentaroid robot in our dental curriculum development, we hope to help support the ADA in their efforts to someday eliminate the patient-based licensure examinations," Cayouette said. 
Huja talked about the value of innovation in dental education. "Change is occurring in dentistry at a very rapid pace and dentists and dental practitioners are seeking to deliver health care through oral wellness," Huja said.  
"In other words, dentists should become care team leaders not just serve as apex providers. The College of Dental Medicine seeks clinical integration for our students, practitioners with internal and external partners. Venture capital interest in dentistry remains very high, and with knowledge and teamwork, we will be able to meet and address any challenge." 
He also thanked Lemon and Davis for their work at MUSC, Saladin for her unwavering support for the College of Dental Medicine and Cawley for his role in helping the college work with MUSC Health as partners. Huja said he hopes the college will improve its clinical efficiency and learn from MUSC Health.
Cayouette said the possibilities for dental simulation education are limitless with the Dentaroid. "The future is bright for dentistry with this new technology."