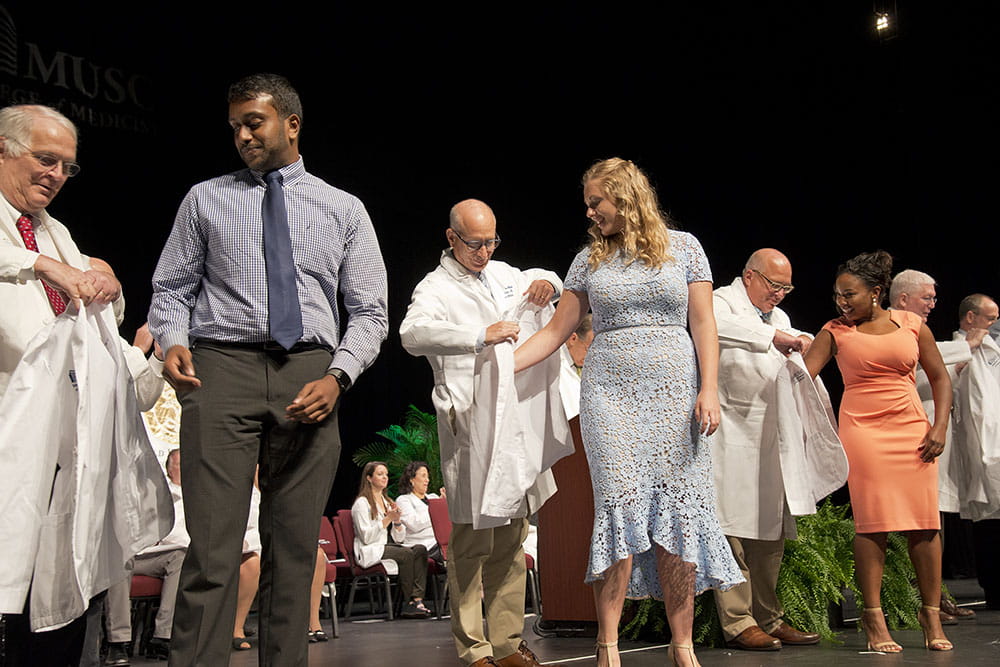 The Flexers have arrived. 
That's the nickname returning medical students have bestowed upon 2018's first-year medical students at the Medical University of South Carolina, the first class to begin the new Flex Curriculum that includes an option to complete medical school in three years. 
Though the three-year option is the most visible change to outsiders, it's expected to affect only a couple of handfuls of students each year. The substantial changes are to the medical school experience, which has been revamped from beginning to end. 
The new curriculum not only gets students started earlier in studying disease and treatment, but it also provides opportunities for students to tailor their studies to their interests, whether those be in research, global health, education or medical humanities. And it plans to integrate topics like telehealth that have been treated as adjuncts in the past. 
Donna Kern, M.D., senior associate dean for medical education, said it's taken about two years to develop this new model but it has been built on lessons learned over eight years of experience with the previous curriculum. The College of Medicine last went through a curriculum change in 2009, when it moved to teaching by organ systems instead of the traditional method of teaching courses in silos like anatomy, physiology, microbiology, immunology and so on. Since then, faculty have commented here and there about little tweaks they'd like to make — and all those little tweaks were on the table as the new curriculum was developed. 
One of the bigger changes was actually something the faculty would never have dreamed of proposing, Kern said. Instead, faculty followed students' lead in doing away with summer break between first and second year.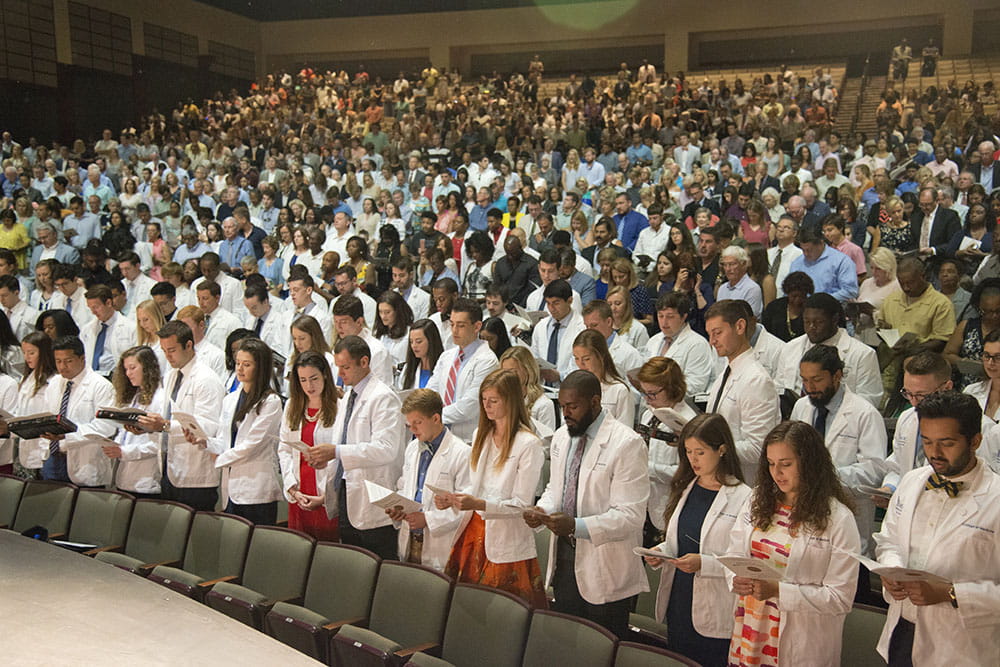 "At first it was not intuitive to us," Kern said. But over and over, students in focus groups said that after the progress they made in the first year in learning a new way of thinking and studying, summer break stalled their momentum. They had to get back into medical school mode when they returned in the fall and stepped right into the content-heavy second year, plus they immediately began worrying about Step 1, the first test in the three-part U.S. Medical Licensing Examination. 
By continuing classes through the summer and rearranging the content, the transition from first to second year should be seamless. Kern also hopes it will reduce anxiety about Step 1. Smaller breaks are built into the schedule to give students necessary downtime. 
In the past, first-year students studied normal anatomy and second-year students studied disease, drugs and treatment. But first-year students are eager to learn about disease; it's why they came to medical school. And as drugs and treatments have increased, the content for a traditional second year exploded, Kern said. 
The new curriculum is still arranged by organ system, but now incorporates both normal functions and disease. Each block will feature a real patient whose story from diagnosis to treatment will be told in a series of videos. 
"We emphasize the patient and not just the disease, and help students remember to keep the patient in focus," Kern said. 
Flex Phase
After students take the Step 1 test in March of their second year, they'll move into the 10- to 12-week "Flex" Phase. This phase, which embeds scholarly concentrations into the curriculum rather than leaving them as an awkward add-on, is unique among medical schools, Kern said. 
Students in the three-year M.D. pathway will skip the flex phase. Instead, they'll take Step 1 a little earlier than their peers and head straight into clerkships. Military students will have better flexibility in meeting their military requirements. Students enrolled in the dual degree M.D./Ph.D. program will begin their Ph.D. work earlier. 
For most students, however, the flex phase will give them the chance to explore their interests in-depth. There are four concentrations to choose from: research, global health, medical education and medical humanities. 
Kern expects the majority of students will choose research, since many competitive specialties are increasingly requiring research. Students have always been able to conduct research — in fact, MUSC received a commendation from its accrediting body for the research opportunities available to students — but because it was usually done in the summer between first and second years, students found themselves researching diseases they hadn't yet learned about in the curriculum. 
Now, by embedding research into the school year, there will be a standardized curriculum for all research students that introduces foundational concepts of medical research. Students will have already completed their classroom studies so they'll be better able to match their interests to research topics and develop mentoring relationships with faculty in that specialty. 
The global health concentration has already attracted a lot of interest from students, Kern said. Andrea Summer, M.D., director of the Global Health Certificate Program, is developing a curriculum for the global health flex phase. Students who choose this option will take a deep dive into global health topics and apply their learning in research that focuses on health outcomes around the globe and in South Carolina. Students are also eligible to apply for the global health travel scholarships that the college provides for rotations in the fourth year. 
There will also be aspects of all of the scholarly concentrations that will be open to students in all tracks, like special sessions in humanities, research, and global health. A formal poster presentation at the end of the flex phase will showcase the work of students in all four tracks. 
Three-year option
Kern said there's already been interest in the three-year option, but she's cautioned students to slow down and focus on their current studies first. Students aren't accepted directly into the three-year option from undergraduate. Instead, they must demonstrate strong performance in the medical school curriculum and that they are confident in their choice of specialty. 
It is actually quite difficult, she said, to identify the best students for the accelerated pathway before they begin their studies. She spoke of one recent graduate who would not have stood out as she entered the college; but by her third year, Kern could see she was a great candidate.
"Her grades in college were very good. Her grades in medical school were perfect. She had a passion, she was mature and she had decided early on a specialty. She would have been a perfect person for this program," she said. 
Students are people too, Kern emphasized, and personal life events like the death of a loved one or birth of a child could mean that trying to finish medical school in three years would be too much, so students have the option to move back to the four-year pathway if needed.  
If faculty members feel the student is a good candidate, he or she will take Step 1 early, with less built-in study time, and move directly into clerkships. The student will do the core rotations back to back without the built-in time that four-year students have for extra electives, away rotations, residency interviews and figuring out which specialty to pursue. Instead, the three-year students will move directly into a residency position here at MUSC. 
Participating residency programs include family medicine, internal medicine, emergency medicine, neurology, pediatrics, OB-GYN, general surgery, psychiatry, neurosurgery, ophthalmology, orthopedics and pathology. 
The three-year program helps students avoid another year of tuition and helps the state keep the brightest students here in South Carolina for residency. "That's a student we want to keep here, because residency is a great indicator of where someone will eventually practice. As a state institution, part of our mission is to serve the state by educating physicians who will stay in the state," said College of Medicine spokeswoman Allison Leggett. 
Although the three-year students won't be selected until next year, the college has already had one student graduate early in a pilot program. Jacob Wolf, M.D., is about to begin his second year of residency in orthopedics. He said the idea of saving $30,000 in out-of-state tuition was appealing, as well the promise of nailing down a residency in a competitive specialty without having to go through the match. Staying at MUSC also kept him near then-fiancee — now his wife —  who is one year behind him in medical school. 
Wolf said he entered medical school pretty sure he wanted to do orthopedics, and the orthopedics rotation solidified his interest. He felt some pressure to compress his studying for Step 2, the next exam in the licensing system, into a week or so because he didn't have time off, but the excitement of getting started with his career carried him through the beginning of residency. He did feel a bit of a twinge in the spring of what would have been his fourth year, when he was busy working and his classmates were taking trips to Europe and relaxing, but overall, he has no regrets about the accelerated program. 
"If you feel like you can keep up with the academic milestones of a three-year curriculum and you're not waffling back and forth on career choices, I think it's a perfect option for people. That being said, there's plenty of people for whom the traditional four-year route is more appropriate. I don't think I would pressure somebody into the early accelerated curriculum but if they know what they want to do, I say more power to them. Go for it," he said. 
Kern said that it is important to emphasize that taking four years for medical school is the normal, accepted pathway and should not be viewed as a "lesser" option than the three-year route. Some students might start the three-year route but find themselves questioning their specialty choice, in which case they would easily transition back to the four-year path to ensure they had adequate time to decide — and that should not and will not be viewed as a setback or  failure, Kern said. 
The three-year program will have room for about 20 students each year. Based on other schools' experiences, though, Kern expects no more than 10 students each year will actually take the three-year route.