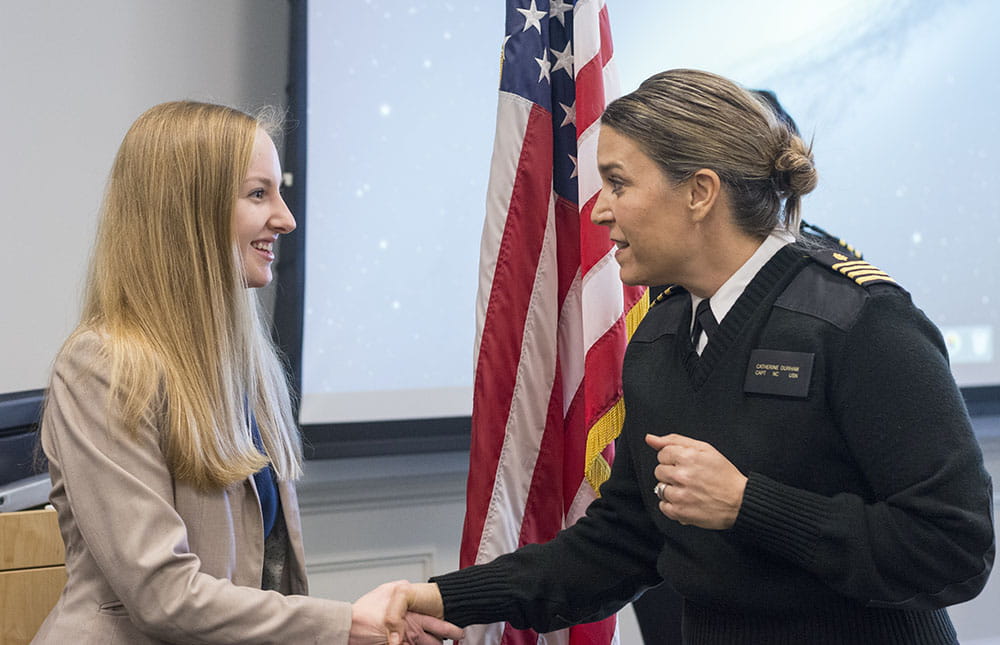 Wherever armies have clashed and soldiers have suffered wounds, nurses have been there to care for them. During the Revolutionary War, the Continental Congress paid women to care for the sick and wounded. Military nursing began to be professionalized during the Spanish-American War. Today, military nurses care for service members, their families and retirees, giving them a chance to provide a full spectrum of care from birth to death. 
Friday, MUSC student Maylin Taylor took her first step toward joining the ranks of military nurses. In front of a classroom full of her peers, family members and faculty, she swore an oath to support and defend the Constitution of the United States as an officer in the U.S. Air Force. Now a second lieutenant, she will continue working toward her Doctor of Nursing Practice degree with support from an Air Force scholarship. When she graduates in two years, she will begin three years of active duty service as a captain. 
Taylor, a Greenville native, doesn't come from a military family. She said she was drawn to military service by the idea of being able to practice abroad and be part of something bigger than herself. 
"I love the idea of being in service to others in more ways than one," she said.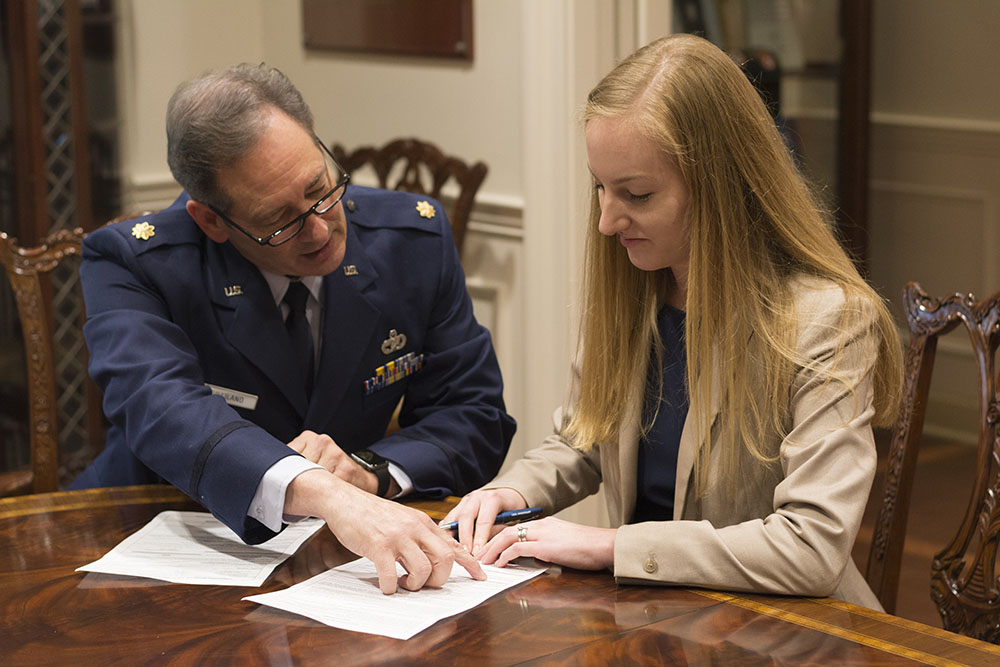 Three branches of the military were represented at Taylor's oath of office. Longtime family friend Air Force Maj. (ret) Phillip Gilliland performed the swearing-in. Army Reserve Capt. Rebecca Ferneding, a nurse who became friends with Taylor in their civilian jobs, attended the ceremony as did Catherine Durham, director of the DNP program and a captain in the Navy Reserve, and Angela Stanley, an instructor in the DNP program and a retired Navy commander. 
Taylor said she entered college with the idea she wanted to go to medical school. During a shadow program at Roper St. Francis, however, she realized the nurses were the ones who spent more time with patients and that was what she wanted to do. After earning a chemistry degree at the College of Charleston, she earned a Bachelor of Science in Nursing at MUSC in 2017. She immediately began working toward her DNP here while adding a full-time job as an emergency department nurse at Bon Secours St. Francis Hospital in West Ashley. 
She said she likes being busy, though she's thankful the Air Force scholarship comes with a stipend that will allow her to switch to part-time hours while she finishes her schooling. As a family nurse practitioner in the Air Force, she'll focus on primary care and expects to handle a wide variety of needs. She likes that the military does not limit the nurse practitioners' scope of practice. She's also excited about the idea of practicing abroad. She and her husband Christopher are hoping to be stationed in Japan, although they're ready to go wherever the Air Force sends her. 
Durham, who spent 11 years in active duty before transitioning to the Reserve, oversees Taylor's clinical work. She was delighted that Taylor asked to hold the swearing-in on campus. The military really encourages nurses to get advanced degrees, she said and it was during her active duty time that she received her Master of Science in Nursing; the post-9/11 GI bill funded her doctoral work. 
Taylor will serve the Air Force well with her DNP, Durham said.  The DNP degree will prepare her to serve patients throughout the lifespan in a primary care setting as well as ensure that she has the skills to evaluate patient, population and policy outcomes and translate new science and evidence into practice.
About the Author