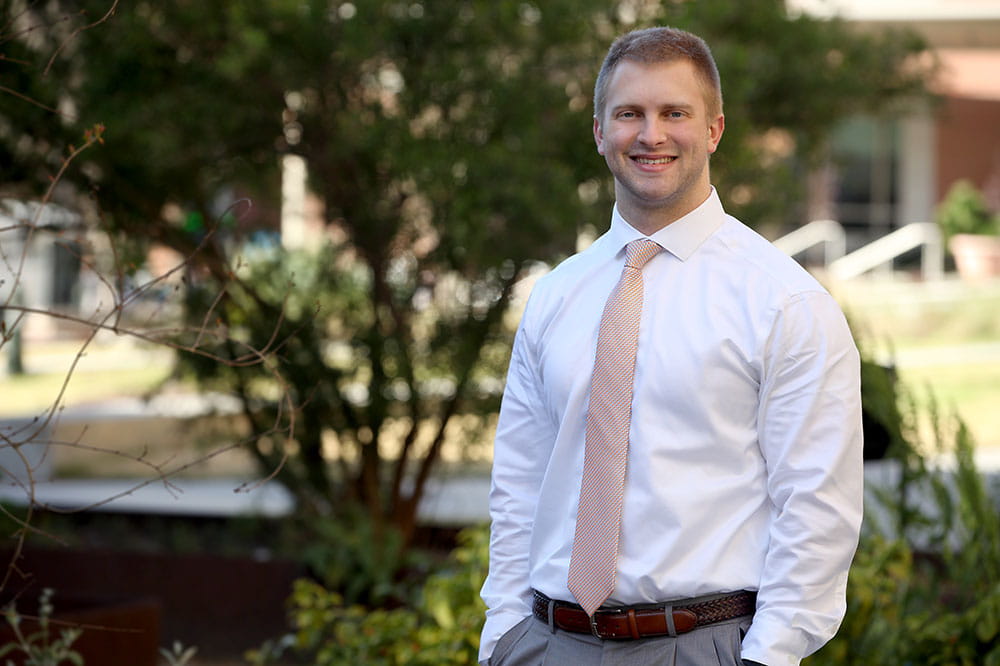 An MUSC Medical Scientist Training Program (M.D./Ph.D.) student has been selected to be part of the 2019 Gates Cambridge Scholars Program at the University of Cambridge in Cambridge, England. Currently finishing his second year of medical school, Stephen Gadomski will begin his Ph.D. work this summer in a partnership between the National Institutes of Health and the University of Cambridge, with the four years split between the institutions.
According to the Gates Cambridge program, Gadomski is one of "thirty-four of the most academically outstanding and socially committed U.S. citizens selected to be part of the 2019 class of Gates Cambridge Scholars at the University of Cambridge." 
The prestigious postgraduate scholarship program, which fully funds postgraduate study and research in any subject at the University of Cambridge, was established through a donation to the University of Cambridge from the Bill & Melinda Gates Foundation in 2000.
Reacting to the news, Gadomski said, "My time at MUSC has given me a new perspective – to build a skill set with the goal of serving others. I hope to strengthen this perspective during my Ph.D. years with the diverse and like-minded Gates community." 
In addition to outstanding academic achievement, the program places emphasis on social leadership in its selection process, as its mission is to create a global network of future leaders committed to improving the lives of others. The U.S. Gates Cambridge Scholars-elect will study and research subjects ranging from cybersecurity, choral music and technology biases to neurotrauma in low-resource settings and skeletal stem cells.
Gadomski's Ph.D. work will focus on characterizing a pure skeletal stem cell population and its interaction with neighboring cell populations in the bone marrow in hopes of improving stem cell therapies for skeletal disease. He will work in a collaboration with Pamela Robey, Ph.D., senior investigator, Skeletal Biology Section, at the NIH and Simon Mendez-Ferrer, Ph.D., and Andrew McCaskie, head of the Department of Surgery, at Cambridge.  
He will return to MUSC to complete his third- and fourth-year medical degree coursework. At the end of his studies, he is expected to earn an M.D. from MUSC and a Ph.D. from the University of Cambridge.   
Barry Everitt, Ph.D., director of research and provost of the Gates Cambridge Trust, said: "The U.S. scholars-elect have been selected to reflect the mission of the Bill & Melinda Gates Foundation's generous and historic gift to the University of Cambridge. Like their predecessors, they are an extraordinarily impressive and diverse group who have already achieved much in terms of their academic studies and leadership abilities and have already shown their commitment to improving the lives of others in a multitude of ways. We are particularly delighted that we were able to offer awards to a large number of Ph.D. scholars."
The U.S. scholars-elect will join about 60 scholars from other parts of the world. The class of 2019 will join current Gates Cambridge Scholars in October to form a community of approximately 220 scholars-in-residence at the University of Cambridge.
Throughout his time at MUSC, Gadomski has been collaborating with Jonathan Keller, Ph.D., senior investigator, Head, Hematopoiesis and Stem Cell Biology Section of the NIH. Together, they plan to publish their work on the bone marrow microenvironment in the coming months. 
He also pursued research between his first and second years in medical school with Robey, working with a medical student from Case Western, and was involved with single cell sequencing of bone marrow stromal populations and optimizing a surgical model to test cartilage regeneration in mice. 
Gadomski also worked in the lab of Stephen Duncan, Ph.D., chairman of the MUSC Department of Regenerative Medicine and Cell Biology, prior to entering medical school, working most closely with post-doctoral fellow Ray Liu, Ph.D., pursuing a line of inquiry into finding new drug therapies that lower low-density lipoprotein cholesterol using iPSC-derived hepatocyte-like cells as a model.