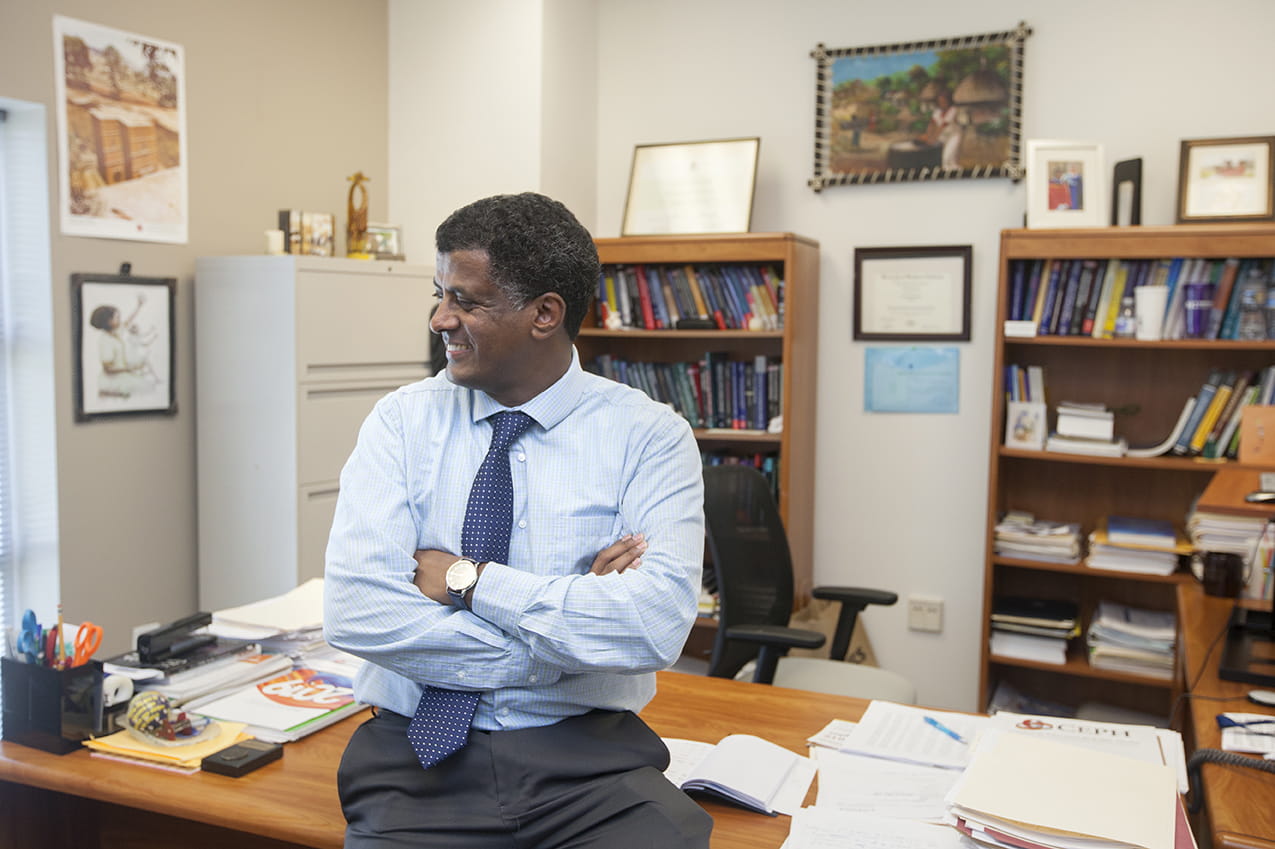 Sometimes our greatest impacts are felt from afar.
In 2001, Mulugeta Gebregziabher, Ph.D., took a leap of faith and left his homeland of Ethiopia to come to the United States for a better education. Little did he know that being 8,000 miles away would somehow bring him closer to the country in which he grew up.
From behind his desk at 135 Cannon St., the Medical University of South Carolina professor and biostatistician smiles as he thinks of his hometown of Adwa, a small mountainous settlement located in the northern part of Ethiopia. He pauses for a moment before his face becomes serious. The town, though filled with fond memories, was a tough place to grow up, he said. Throughout its history, Adwa has been plagued by war and famine. Due to its remote location, many children who grow up there don't even know another place in the world exists.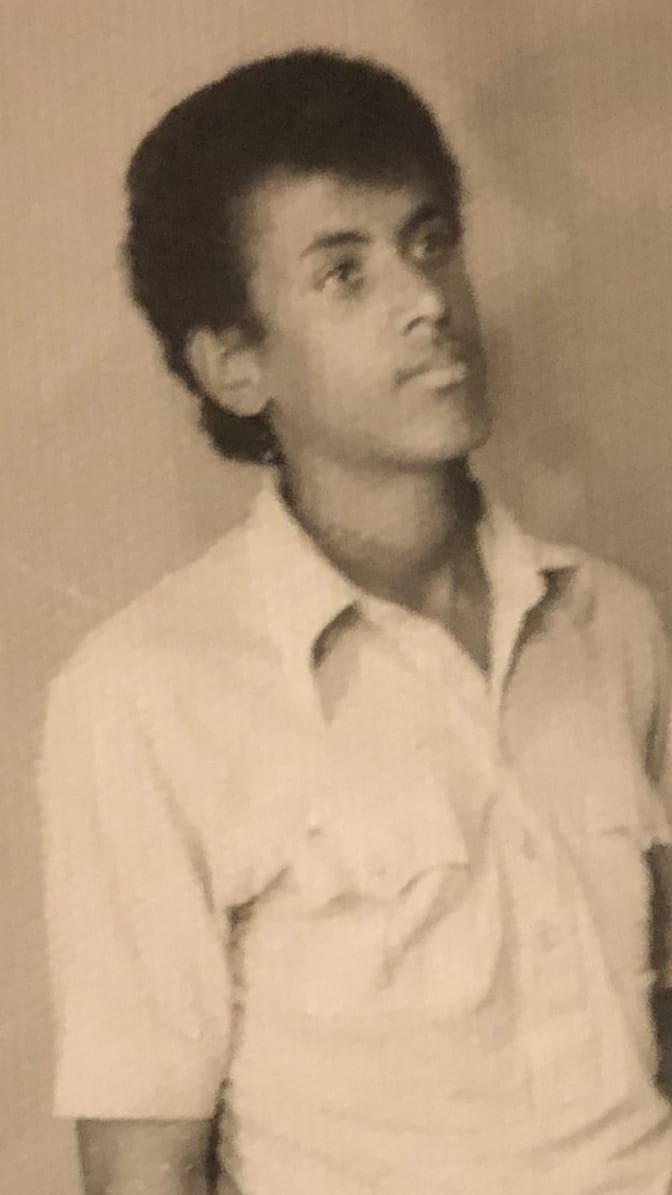 Though neither of his parents had any formal schooling, his mother was acutely aware of the value of a good education. So at the age of 6, following in the footsteps of his five older siblings, Gebregziabher started going to school. His thirst for knowledge and solid work ethic impressed his teachers so much that within the first few days, they moved him up two grades. Years later, he became one of the chosen few from Adwa to get the opportunity to go to high school. His reward? A five-mile walk to and from the school's campus every day. Again he flourished. From there it was on to college at Addis Ababa University, located in the capital of Ethiopia, about 700 miles south.
Upon graduation, he was faced with a tough choice: stay in Ethiopia near his family – the only place he ever really knew – or go to the United States to pursue his dream of becoming a biostatistician. Complicating the matter was the fact he had a wife, Abby Teklehaimanot, his college sweetheart, and 1-year-old child, Nahom. It was a big decision for a new family, but Gebregziabher said it was his wife who didn't hesitate. He remembers her saying that this was an opportunity they couldn't let slip by.
"She was really great during that time," he said. "If she wasn't so supportive, who knows how things would have turned out."
That choice to go would profoundly change the approach to health care in their country.
In 2006 – after graduating from the University of Southern California with his Ph.D. – he began working for MUSC as an assistant professor in biostatistics. Whether it has to do with medicine, biology or public health, the role of a biostatistician is to analyze data and statistics collected during studies to help to answer pressing research questions and make predictions based on that information. Did this new health intervention work? How much did certain environmental factors affect health? How long does a person with a certain disease typically survive?
"Basically, we try to make sense of all the data," he said. 
Not long after starting at MUSC, Gebregziabher began thinking of ways to give back to his homeland. At first it was through annual trips, sharing medical tips here and there with any locals who would listen. Soon it flipped around, and it was the locals in the health care community seeking him out.  
 

"There was a choice back then – stay or go? But there's no doubt in my mind I made the right decision."

 

-Mulugeta Gebregziabher, Ph.D.

 
In 2014, he led an effort to sign a memorandum of understanding between MUSC and several Ethiopian universities, medical colleges and hospitals. From this agreement came an annual workshop, linking together MUSC and the young and vibrant health care community in Ethiopia. The goal: to share as much of his colleagues' vast knowledge as possible – as well as listen to what the Ethiopians had to teach them. While there have been a couple of years when the group met stateside, typically Gebregziabher and his colleagues have traveled there. This past June, he, along with fellow researcher John Vena, Ph.D., made the trip across the Atlantic for the latest of these workshops, this time tackling the topic of research in a clinical setting. 
Nearly 30 doctors, nurses and pharmacists from Aksum University, Adigrat University and the Tigray Health Research Institute attended the workshop, which Gebregziabher and Vena hosted at Aksum University. During the weeklong intensive, the MUSC researchers spoke to the group about a broad range of topics. The week began with lectures and discussions about the basics of research, then the group divided into teams and worked through real-life challenges facing their respective hospitals in Ethiopia. 
By the end of the week, the group had picked six initiatives on which to focus, ranging from complex to the most basic. For instance, all agreed that the electronic management of patient records was crucial because that data provides both the keys for understanding trends in the overall health of the community and readily available data for pilot studies.
"Something seemingly as simple as collecting patient data – especially using electronic records – is not easy in a place like Ethiopia," Gebregziabher explained. "So helping them learn ways to do that better is a real help to the heath care of the nation."
Additionally, Gebregziabher and Vena showed the group how to write a detailed research grant and budget more efficiently. They also shared their experiences about how small projects that arise from such workshops could lead to big and impactful proposals. In fact, as a result of this most recent gathering, the group is currently awaiting word on a joint proposal it submitted to the United States Agency for International Development that could net another victory for the partnership, this time in the form of funding to help Ethiopia further its health care, health care research and education.
"Their warmth and enthusiasm for everything we had to share was incredible," Vena said. "Nearly two months later, and I'm still getting emails."
Though Gebregziabher said it's great to be able to give back to the people of his homeland, he's quick to point out that it isn't simply a one-way street.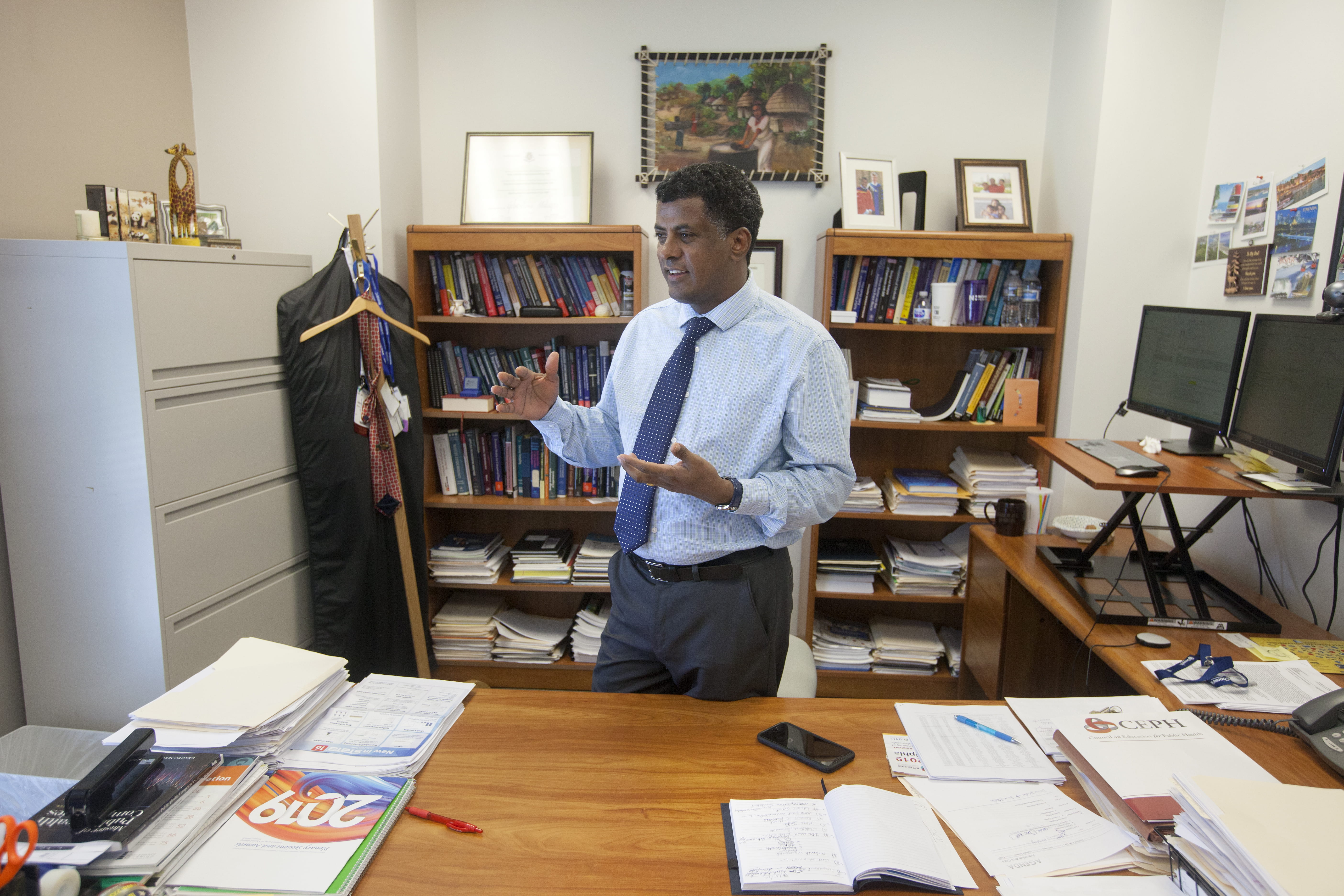 "We live in a very globalized world," he said. "Health issues somewhere else on the planet can very quickly affect us. So by giving these people the skills they need to work more efficiently, we're making more powerful allies down the road. I always like to say, 'Don't give a fish to a person; teach them how to fish.'" 
Vena echoed his sentiments: "We are helping them, sure, but it's great for MUSC because it allows us an opportunity to conduct research and provide unique educational opportunities for our students and faculty."
Both researchers expect the partnership only to grow stronger in the coming years. The data that comes out of the collaborative studies has wide-ranging implications to the field of medical research as well as to our local communities here in the U.S.
"To see them so enthusiastic through this entire process just makes it all all the more rewarding," Vena said. "I suspect we are only scratching the surface of this international relationship."
The subject of medical research seems to pervade the Gebregziabher household. His wife Abby also works for MUSC as a research associate in the data coordination unit of the Department of Public Health Sciences. And their 1-year-old? He's now a sophomore in the Honors College at the University of South Carolina. In 2008, they had a second son, Aaron, who loves soccer and basketball. To say things worked out for Gebregziabher and his family would be a massive understatement. 
"There was a choice back then – stay or go? But there's no doubt in my mind I made the right decision," Gebregziabher said. While he and his immediate family live in America now, when he thinks back to his childhood home, he can't contain his pride. 
"Giving back to a community is great. I love doing things for MUSC and Charleston, and of course it motivates me to keep doing what I'm doing. But when something I do directly impacts my home, where I come from, it is truly special," he said.
Suggest a Story
Have an idea for MUSC Catalyst News? Contact our editorial team and let us know.
About the Author