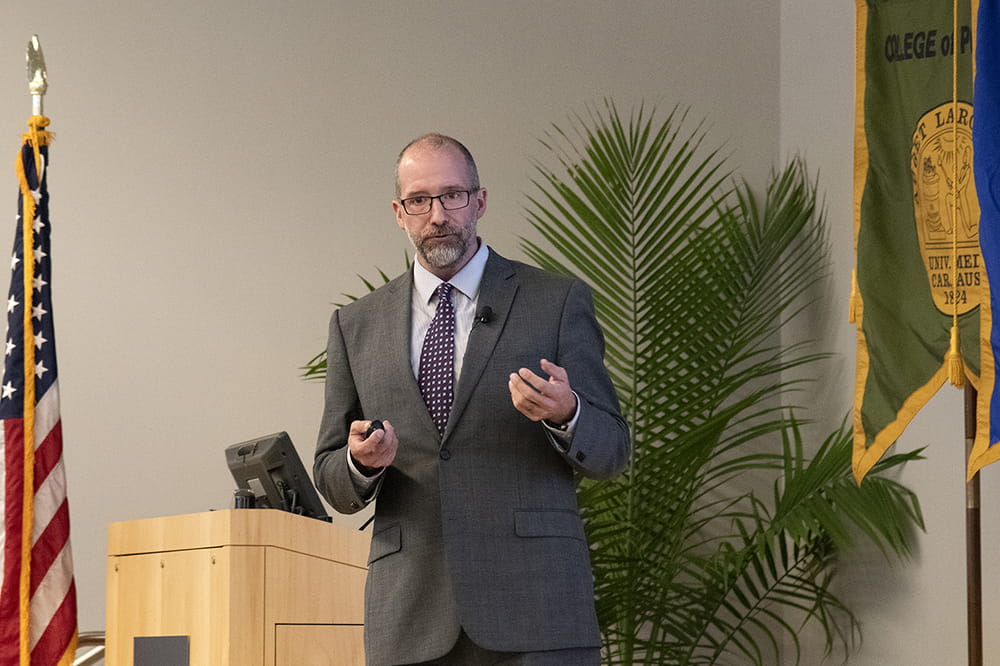 Electronic health records get a bad rap. 
Maybe not completely undeserved, but electronic health records, or EHRs, are on the verge of living up to their promise of more than a decade ago, said David McSwain, M.D., associate professor in the MUSC College of Medicine and chief medical information officer for MUSC and MUSC Health, during his faculty convocation address on Tuesday. 
People forget the "bad old days" of hiking across the hospital and up or down several floors to retrieve X-rays – and then discovering that someone else had gotten to them first – or of attempting to decipher the handwriting of multiple doctors to understand a patient's overall care plan, he said. EHRs have already improved day-to-day life in those respects. 
EHRs get much of the blame for physician burnout because the technology is the thing that's right there, staring you in the face, he said. But a lot of burnout is really attributable to the burden of increased regulatory, billing and compliance requirements that grew up at the same time as EHRs, he said. In fact, a study that sought to correlate physician burnout rates with the effectiveness of EHR implementation at various hospitals found that only 10 percent of the burnout could actually be attributed to EHRs. 
Indeed, people do just fine with complex technology, McSwain said, as he asked audience members to name their most effective piece of personal technology. People quickly understood he was talking about smartphones. 
But, he said, "What if I walked out there in the audience and I took every single one of your iPhones, your mobile phones, your smartphones, and I reset them all to factory default?" The audience murmured.
"And then I locked them and handed them back to you," he continued. "I erased all your apps; I erased all your contacts. I erased all your settings. And I said, 'That's the phone you have to use.' How effective would it be then? Would you feel like it's the most effective piece of technology you use then?"
The key, he said, is personalization. IPhones allow end users almost endless personalization as they choose which apps to install and where to place their icons, but, he added, Apple requires app developers to stay within strict parameters, ensuring the apps are easy to use. 
"You can utilize that phone in a way that works for you, so it's an extension of your brain. That's how it's intuitive," McSwain said. 
Similarly, EHRs should be standardized at the institutional level but allow for personalization at the user level. 
"The key is we have to build in personalization tools – and we are building in personalization tools – that allow you to make your experience with health care technology work the way you need it to work for what you're trying to do for your patients," he said. 
And with the opening of the Shawn Jenkins Children's Hospital and Pearl Tourville Women's Pavilion in October, MUSC Health is pioneering new technology that it's co-developing with industry leaders, McSwain said. 
The goal is to reinvent rounding, the practice of teams of doctors visiting each patient each day. 
The initial vision was to eliminate rolling computer workstations and do everything with an iPad, but that wasn't possible because of current limitations on how iPads interact with Epic, MUSC Health's electronic health record system, McSwain said. However, as much as possible, doctors will use iPads, he continued. They will be able to enter a room and use the iPad to show information on a large screen in the room, including X-rays, scans, lab results and patient education screens. 
"This is something that MUSC is doing that no one else in the country is doing. We are really, truly leading the way in health care innovation," McSwain said. 
In his closing remarks, he said the university's students need to learn how EHRs work, and they need to learn before they start interacting with patients. 
"Our students need to be educated on technology the same way they're educated on how to conduct a physical exam. The same way they're educated on how to use a stethoscope, how to adjust a mechanical ventilator. They need to understand what big data is and how to use it. What analytics are. They need to understand what health and research informatics are."
By integrating this technology component into the curriculum, MUSC graduates will leave here ready to be change agents across the country, McSwain said. 
The faculty convocation also included awards presentations to several faculty members.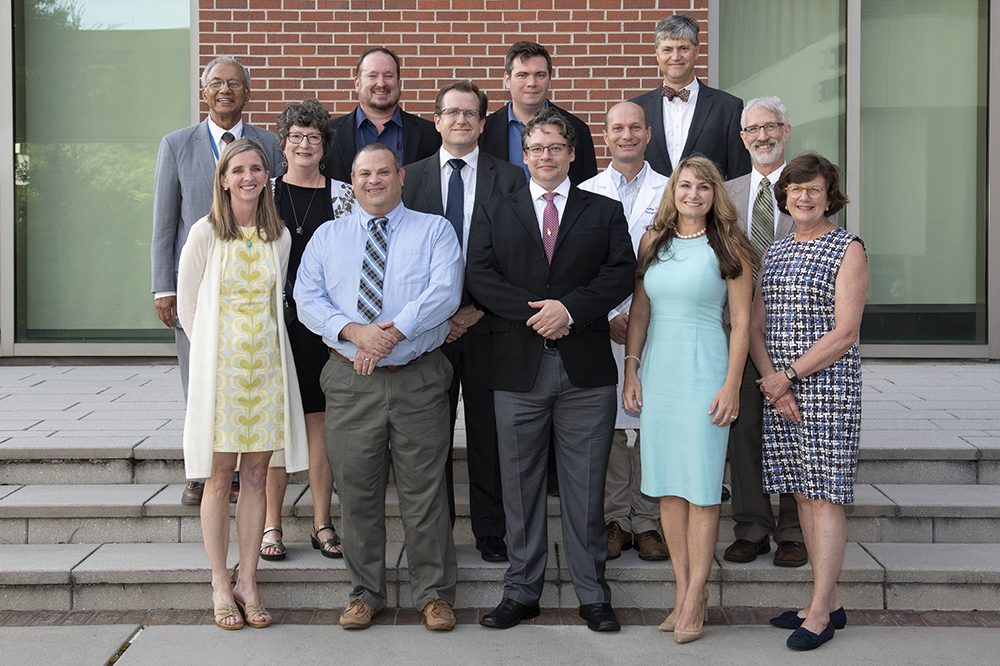 Teaching Excellence Awards
Developing Teacher
David C. Fitzgerald
Clinical Coordinator and Assistant Director
Cardiovascular Perfusion Program
College of Health Professions
Educator – Lecturer
Gilbert A. Boissonneault, Ph.D. 
Professor
College of Health Professions
Educator – Mentor: Academic/Scholarship
Yuri K. Peterson, Ph.D.
Research Associate Professor
Department of Drug Discovery and Biomedical Sciences
College of Pharmacy


Distinguished Faculty Service Awards
Thomas Brothers, M.D.
Professor, Department of Surgery, College of Medicine
Tariq Javed, D.M.D.
Vice Dean and Professor, James B. Edwards College of Dental Medicine
Sally Webb, M.D.
Professor, Department of Pediatrics, College of Medicine


Developing Scholar Award
John Wrangle, M.D.
Assistant Professor, Department of Medicine – Hematology/Oncology, College of Medicine
Shaun Olsen, Ph.D.
Assistant Professor, Department of Biochemistry & Molecular Biology, College of Medicine


Peggy Schachte Research Mentor Award
Carla Danielson, Ph.D.
Professor, Department of Psychiatry & Behavioral Sciences, College of Medicine


Population Health Awards
Graham W. Warren, M.D., Ph.D.
Professor & Vice Chairman for Research in Radiation Oncology, Department of Cell and Molecular Pharmacology & Experimental Therapeutics, College of Medicine
Janice D. Key, M.D.
Professor, Department of Pediatrics, College of Medicine


Outstanding Clinician Awards
Stuart M. Leon, M.D.
Professor, Division of General Surgery, Department of Surgery, College of Medicine
Bradley C. Presley, M.D.
Associate Professor, Department of Emergency Medicine, College of Medicine
Commitment to Excellence in Interprofessional Education and Collaborative Practice Award
Danielle Scheurer, M.D.
Chief Quality Officer
Suggest a Story
Have an idea for MUSC Catalyst News? Contact our editorial team and let us know.
Happening on Facebook
Latest Tweets
Tweets by MUSCatalystNews