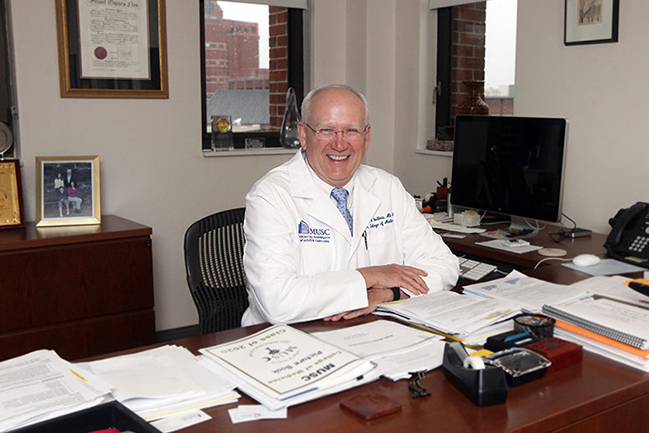 The American Association for Cancer Research (AACR) recognized Raymond DuBois, M.D., Ph.D., dean of the College of Medicine, as the recipient of the Margaret Foti Award for Leadership and Extraordinary Achievements in Cancer Research at its 2019 annual meeting. The award recognizes his global leadership in the early detection, interception, and prevention of colorectal cancer. DuBois discovered the mechanistic function of prostaglandins (PGs) and cyclooxygenase in colon cancer initiation and progression and clarified the role of PGs in the tumor microenvironment, spearheading the consideration of aspirin and other non-steroidal anti-inflammatory mediators for cancer prevention.
"Dr. DuBois is a highly distinguished researcher whose innovative work has made him an international leader in the field of early detection and prevention of the disease," said Margaret Foti, M.D., Ph.D., chief executive officer of the AACR. "In addition to his groundbreaking research, Dr. DuBois' exceptional leadership in the scientific community has garnered national and international acclaim."
The award includes a cash prize, a portion of which DuBois plans to donate to the MUSC College of Medicine medical student scholarship fund.
"Many of the milestones I've achieved in my career were made possible by the support of other people," DuBois said. "I think it's only appropriate to use this award to help further the education of future physicians."
MUSC Executive Vice President for Academic Affairs and Provost Lisa Saladin, PT, Ph.D., explained the significance of the Margaret Foti Award. "This award recognizes some of the top researchers, physician scientists, and advocates who have supported cancer research through their leadership, passionate advocacy, and profound contributions," Saladin said. "I join the MUSC academic and research communities in congratulating Dr. DuBois on this prestigious honor."