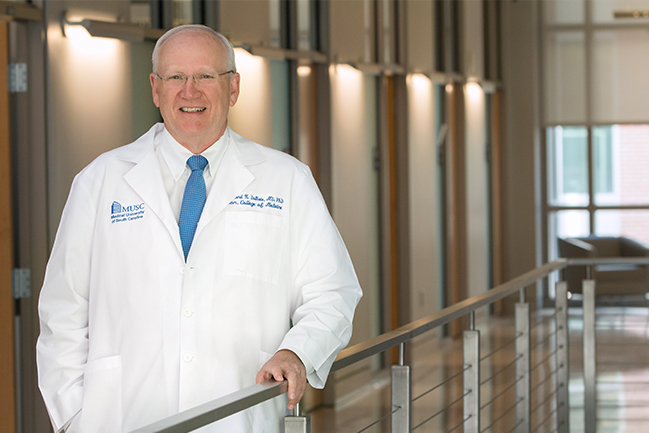 Dear College of Medicine alumni,
It's a busy and exciting time at MUSC, as we welcome the newest class of medical students and look forward to the opening of the MUSC Shawn Jenkins Children's Hospital and Pearl Tourville Women's Pavilion. In August, we enjoyed the annual tradition of presenting white coats to our incoming medical students.
The Class of 2023 includes 180 students who represent the brightest and best from 50 different universities. They come with an impressive average MCAT of 511 and college GPA of 3.76, and they represent a wide variety of interests and backgrounds. We are pleased that our M.D. program continues to have 20% diversity, with MUSC among the 97th percentile for U.S. medical schools with graduates who are African-American.
Our residency program also continues to grow. We now have 73 ACGME residency or fellowship programs that include 780 trainees across MUSC.
At the White Coat Ceremony, our incoming students were excited to receive a stethoscope and white coat, which were made possible through your gifts to the College of Medicine Alumni Loyalty Fund. Your ongoing support of our medical students is one of the things that makes MUSC such a strong institution.
As we look to the beginning of 2020, the opening of the MUSC Shawn Jenkins Children's Hospital will support many of our institutional goals – innovation, top-tier medical education, and most importantly, a patient and family-centered environment.
As alumni, you will always be part of the fabric of our institution, and we hope that you take pride in the innovative education, cutting-edge research, medical expertise, state-of-the-art facilities, and patient-focused care that come together to change what's possible for those we serve.
Thank you for your ongoing support and interest in the College of Medicine.
Sincerely,
Raymond N. DuBois, M.D., Ph.D. Dean, College of Medicine