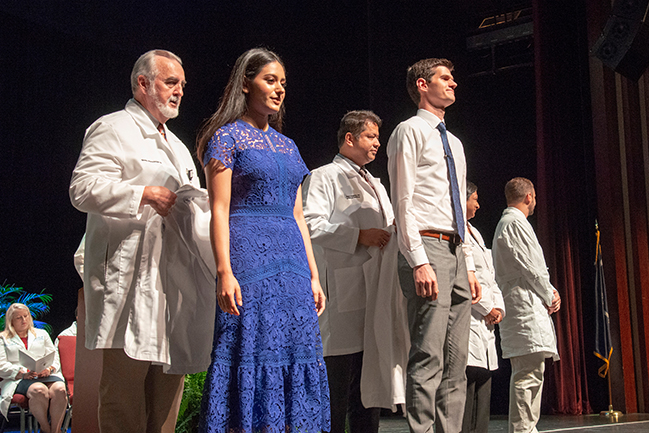 On Aug. 18, the College of Medicine at the Medical University of South Carolina welcomed the Class of 2023, comprised of 180 students chosen from an applicant pool more than 3,800, at the 2019 White Coat Ceremony.
Clarice Clemmens '09, M.D., assistant professor in MUSC's Department of Otolaryngology and a member of the College of Medicine Alumni Association Board of Directors, opened the ceremony by welcoming the incoming class. She congratulated them on their achievement and being accepted to the medical school and spoke movingly about the commitment they are making to becoming physicians.
During the ceremony, faculty members placed on each student's shoulders a white medical coat, after which Dean Raymond DuBois and Clemmens presented each student with a new stethoscope. Students then recited the Hippocratic Oath, signifying their entrance into the medical profession.
Every year, the College of Medicine Alumni Loyalty Fund provides new white coats and stethoscopes for the incoming class. The College of Medicine would like to extend special thanks to those alumni who give annually to the Alumni Loyalty Fund to provide for many needs for which no other source of funding is available.
By the numbers
20 %
Diversity Among COM Students
3,893
Number of Applicants
180
1st Year Students Enrolled in M.D. Program
50
Undergraduate Colleges Represented
24
S.C. Counties Represented
8
Other States Represented