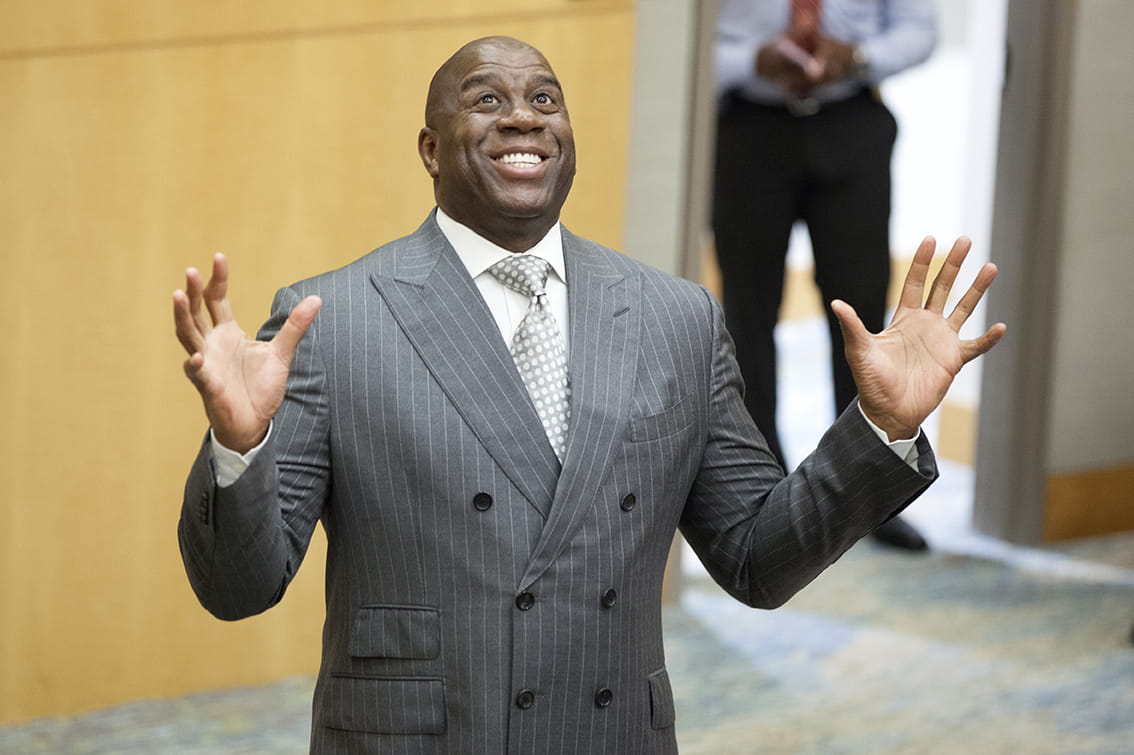 To be a competent doctor, among other things you need to display professionalism and poise under pressure. And then freak the heck out when a 12-time NBA All-Star passes you in the hallway at work.
That was the scene Tuesday, Dec. 10, as Anne Wanaselja, M.D., turned a corner on the second floor of MUSC's Children's Hospital during morning rounds. Not a short woman by any measure, Wanaselja found herself looking straight up at six-foot-nine NBA superstar, Magic Johnson.
Wanaselja froze. Magic smiled.
She managed a "Hi!" but that was about it. Later she would admit it was a photo with the basketball legend she really wanted, but the words didn't quite come out. "He rounded the corner and was smiling so big. I completely froze. I was just going to stand there and let him pass, but I don't know, he stopped and I'm so glad he did," Wanaselja said. 
Magic gave the five-foot-nine anesthesiologist a hug and then had his colleague Dari Ruff snap a photo of them with Wanaselja's cellphone.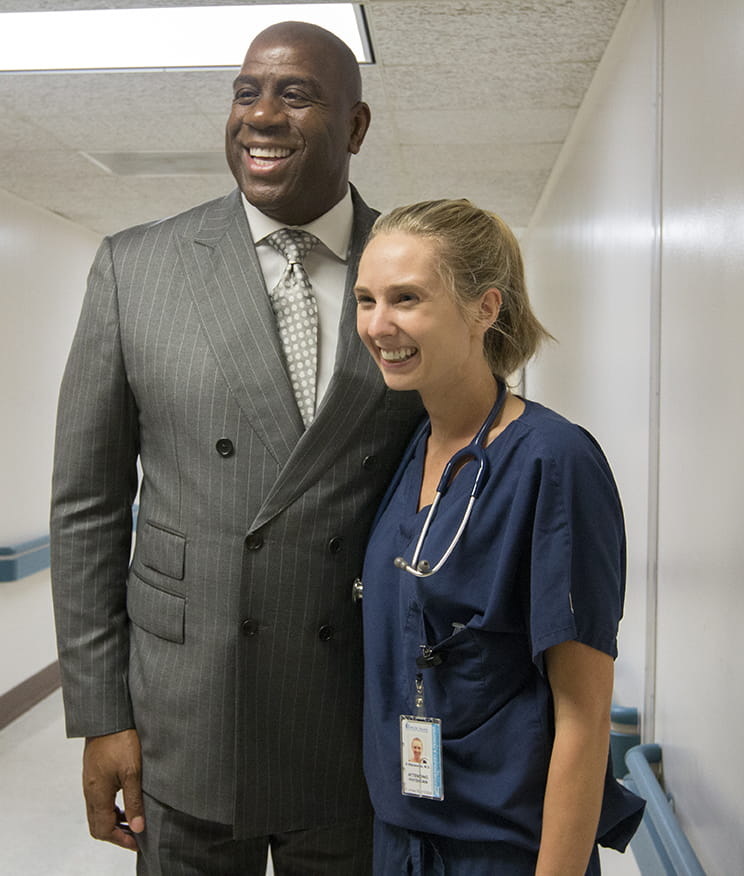 "You're shaking like a leaf," Magic said as they stood there, smiling.
"I know. I'm kind of freaking out," Wanaselja said.
"I had heard you were going to be here," she eventually muttered. "I just didn't think there was any way I'd end up meeting you."
Moments later, as Magic hopped on an elevator to go to the Atrium on the seventh floor, someone asked him if he ever got starstruck. "Absolutely," he said. "I was like that with Nelson Mandela." That might seem like a quantum jump in terms of celebrity stratospheres, but in defense of Wanaselja, the former South African president doesn't have five NBA championships. 
Magic's visit to MUSC was a part of his partnership with SodexoMAGIC, a company that offers food and facilities management solutions to companies like MUSC, with the goal of making a difference in the lives of its clients and customers. He wanted an opportunity to meet some of MUSC's Sodexo folks face-to-face and make some time to visit the kids in the Children's Hospital.
As he stood in front of the Sodexo employees in the Storm Eye Institute auditorium, Magic said the goal of his visit was to inspire others to be their best. The keys to success, he said, are a good work ethic and taking pride in what you do. These were the values instilled in him by his parents from a young age.
"When I was in high school, every summer I worked on a trash truck, and during the school year, I did it on Saturdays." 
Even at this early stage in his life, Magic was already being touted as a basketball phenom. But his parents made him continue to work that job, he said, in order to keep him grounded. "Man, I thought I worked hard, but my father – he was an employee at General Motors for 30 years – the day he retired, they gave him an award for never being late and never missing a day," he said. "Now that's work ethic."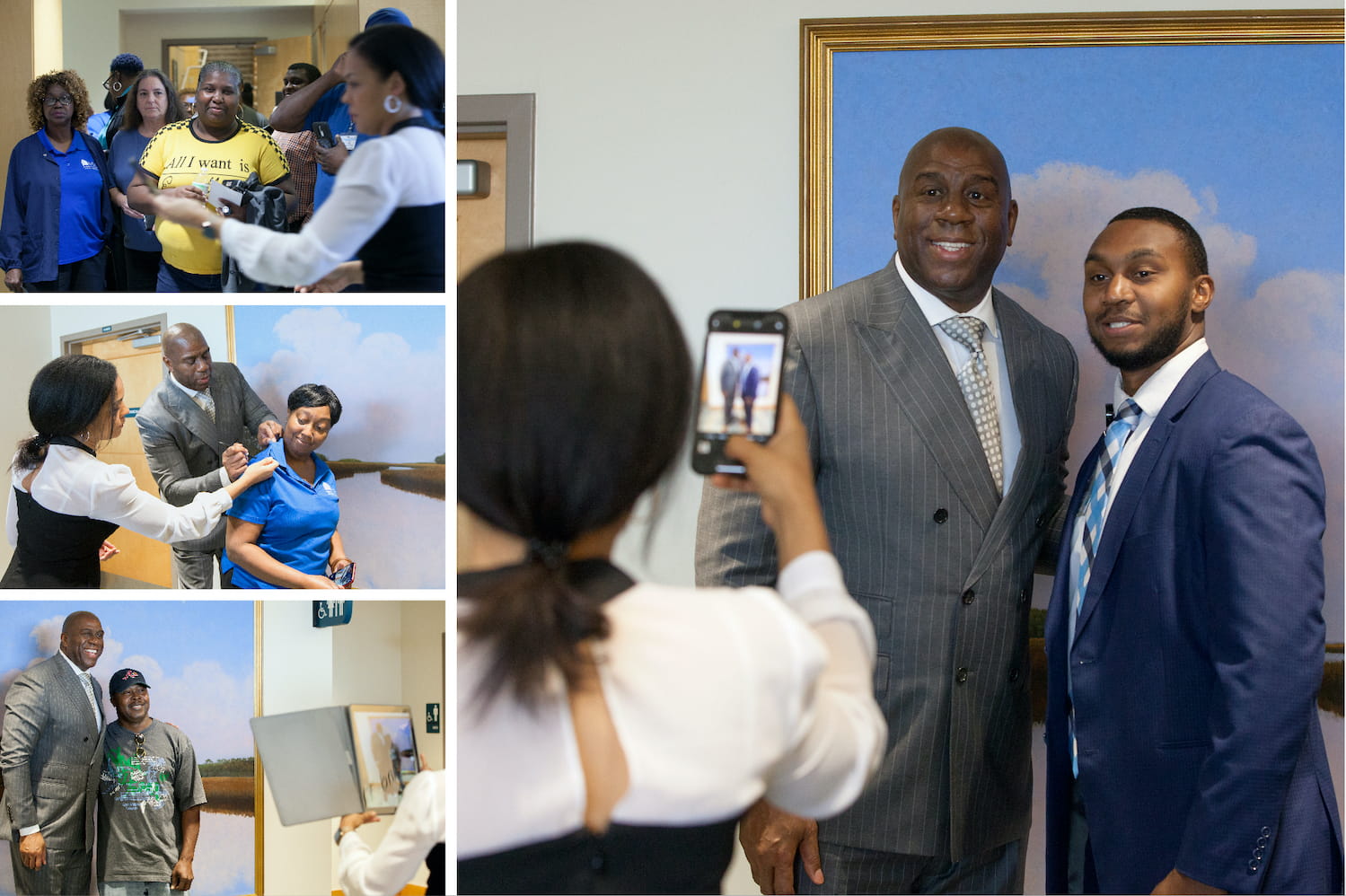 For nearly 30 minutes, Magic fielded questions from the group before generously posing for photos with whomever wanted one. He also signed jerseys, basketballs, even the shirts some people were wearing. After a final group photo, he was off to the Children's Hospital to surprise any patients who happened to be in the Atrium – though word got out pretty fast, and what started as a small handful of kids quickly swelled to dozens. 
During his time with the kids, Magic played air hockey, posed for photos, signed autographs and mainly just sat and chatted with them, allowing them to momentarily forget about all their tubes and pains, even if for just a few minutes.
One of the lucky patients who got quality time with Magic was 11-year-old Jamarion Nealy. He and the former L.A. Laker played pool: Jamarion was stripes, Magic was solids. Though the look on Jamarion's face was priceless when he shook hands with the towering basketball icon, it was his father's jaw that nearly hit the ground.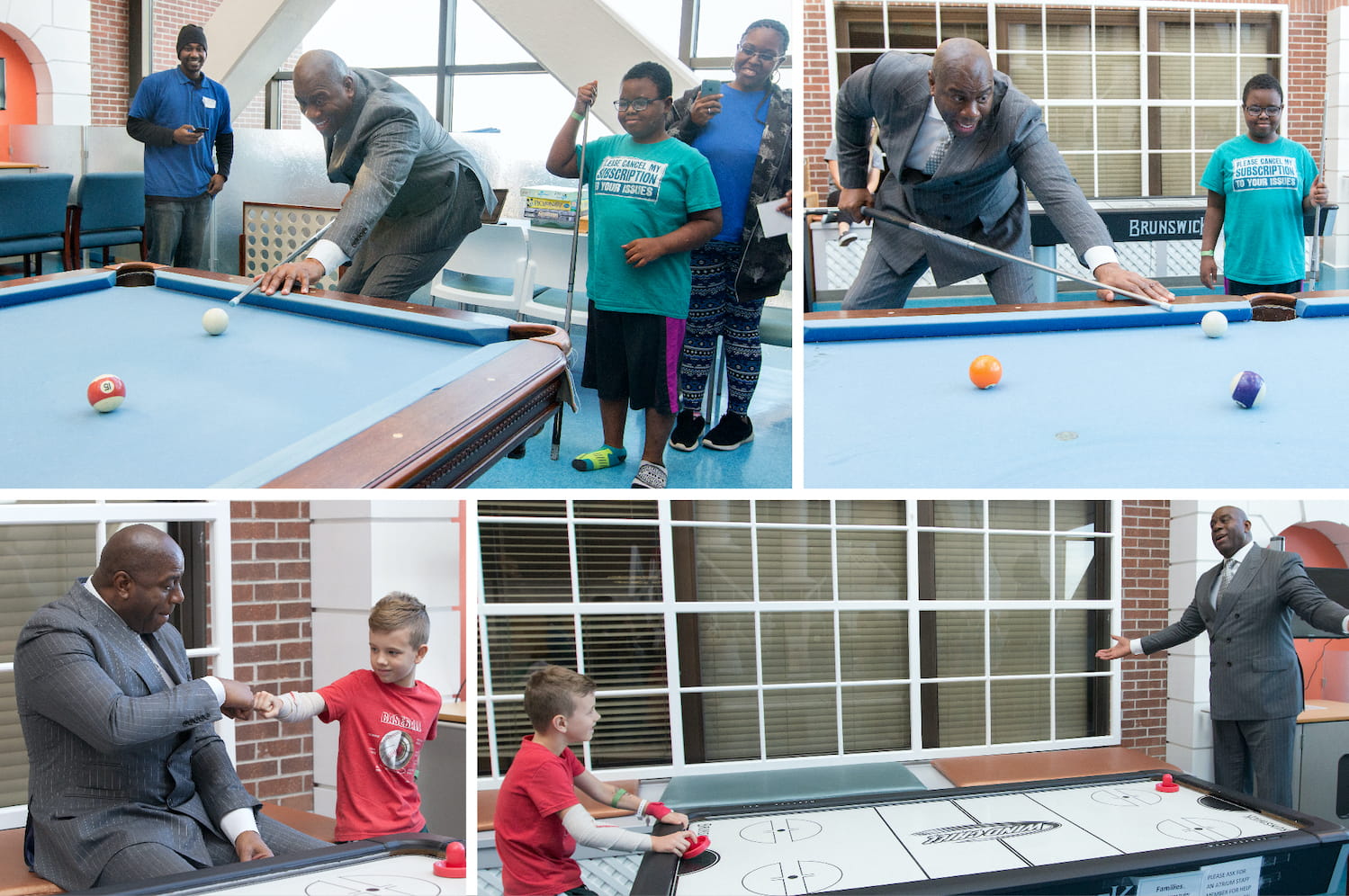 "This is awesome," Brandon Singletary said. "I mean … I wasn't expecting this. Magic Johnson? Standing right here playing pool with my boy? I love that guy and to think he's doing something like this for others. It's just … awesome is the only word I can think of."
Jamarion, who is battling lupus and has been at the hospital for about a week now, was stoked by the encounter: "Getting to meet him makes me feel pretty great. I wish we could do this every day."
After he left and all the buzz surrounding his visit was slowly dying down, the three-time NBA finals MVP posted to his Facebook page. 
"Today was a day only God could have orchestrated. I feel so blessed that I was able to spend time with hundreds of kids at MUSC in Charleston, SC dealing with health issues and bring a smile to their faces. I enjoyed meeting and taking photos with my SodexoMAGiC employees and thousands of doctors and nurses on staff." 
Suggest a Story
Have an idea for MUSC Catalyst News? Contact our editorial team and let us know.