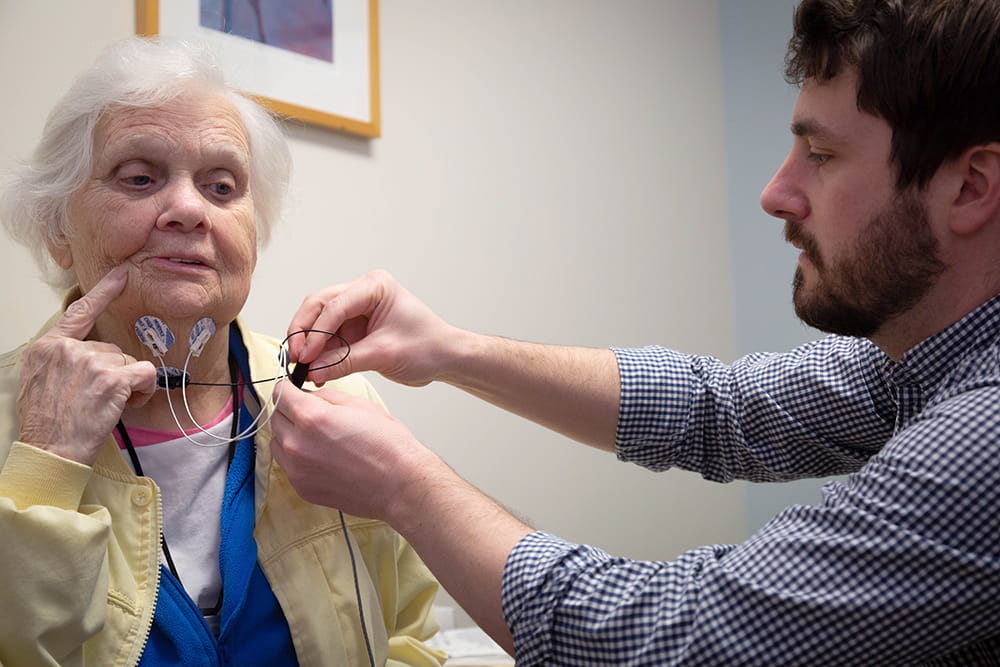 The role of speech–language pathologists today is more exciting than ever.
Speech–language pathologists (SLPs) are trained to evaluate, treat and teach patients who have difficulty communicating and/or swallowing. Historically, SLPs worked primarily in schools. Now, approximately 50% of SLPs work in a health care setting like hospitals, rehabilitation hospitals, nursing homes, home health and private practices.
At MUSC, SLPs are recognized members of the rehabilitation team, and their presence is about to expand with the launch of a new degree program in the College of Health Professions (CHP) — the Master of Science in Speech–Language Pathology.
The new program, the product of several years of planning, will help to meet the local, state, and national needs for SLPs in the workforce.
In an independent report by Wiley Education Services, more than one-third of the nation's states have a high demand for SLPs — including South Carolina. Specifically, 35% of SLPs surveyed reported open jobs, and 26% had funded unfilled positions within their health care organizations. In South Carolina, the Bureau of Labor Statistics projected a 19% increase in jobs for SLPs between 2016 and 2026.
That gap caught the attention of leaders and educators at CHP.
For the college's dean, Zoher Kapasi, PT, Ph.D., the addition of the Master of Science in SLP program signifies the completion of his plan for comprehensive rehabilitation services education at MUSC.
"Our college vision is to improve the health of populations, and this we can do by ensuring that  we are training students in different health professions to provide care for the citizens of South Carolina and beyond," said Kapasi. "The medical focus of our SLP program fills a critical need that we at MUSC, being the state's only academic health center, can truly address."
The program will have a medical emphasis and evidence–based education foundation where students will learn by doing, according to Heather S. Bonilha, Ph.D., division director for the Speech-Language Pathology program. It will offer a wide range of clinical training experiences rarely offered in master's degree programs of this kind.
SLPs work with people of all ages — from birth to the elderly — and MUSC students will have many opportunities to work with the full breadth of patients, from those recovering from stroke or traumatic brain injuries to those living with swallowing disorders in both inpatient and outpatient settings. The medically focused curriculum will include unique academic and clinical opportunities in areas such as:
Head and neck cancer.
Pediatric dysphagia (e.g. care of newborns with swallowing issues).
Cranial facial anomalies and genetic disorders.
Tracheostomy and ventilator dependence.
Even for students who ultimately choose not to work in health care, the MUSC SLP curriculum provides important training and experience. All SLPs, Bonilha explained, need to understand the medical complexities of communication and swallowing disorders. 
"This is knowledge and clinical training that practitioners will need to know, especially if they plan to work in a medical care setting. But, it can also be important to students who chose to work in a school–based setting, as more children who attend school live and function with complex medical conditions."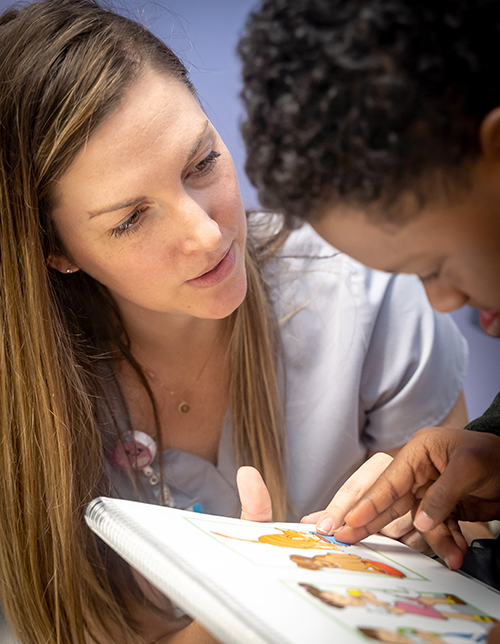 The courses will be taught in an interactive learning environment with very little classroom lecturing. A focal point of the program is that students will be practicing and demonstrating their learned clinical skills and knowledge through independent and group work, clinical experiences, patient interactions and simulations. From day one, in their first rotations, students will train in the hospital, beginning their practice as clinicians in training, according to Bonilha.
Currently in the Palmetto state, three graduate programs train and educate SLPs — the University of South Carolina, South Carolina State University and Francis Marion University. Each program provides a specialized curriculum and clinical experiences within the field of SLP. MUSC's status as an academic medical center provides a unique educational environment to allow for a medical focus.
One particular area of strength is the engagement of skilled clinicians to serve as affiliate clinical faculty in the program. Bonilha is excited to involve more than 25 MUSC SLPs who will serve as clinical educators and leaders. Clinical SLPs will be integrated with CHP's faculty to provide clinical insights, knowledge and skills in specialty areas and continuity between the didactic and clinical coursework.
"We have an amazing cohort of high-level, experienced clinicians. They are skilled experts with years of experience who have previously worked with students through educational experiences in their clinics. Others have didactic teaching experience and most participate in research. We have a wealth of people who are an untapped resource that we can engage to educate students," Bonilha said.
Kapasi is also supportive of this. "The SLP program helps us to further integrate our college with MUSC Health, which we believe is critical in fulfilling our college's vision to improve the health of our population," he said.
Students will also be enriched by the many interdisciplinary experiences available, such as working with peer occupational therapy and physical therapy students, as well as other health professionals, at the student-run nonprofit CARES Therapy Clinic and in other educational experiences.
As Bonilha begins to promote the new program around the Lowcountry, she and her team plan to identify and reach out to practicing SLPs working in various communities to connect and involve them with the program. This could involve supervising students, presenting as guest lecturers, speaking at career days, serving as potential alumni board members and the like. More importantly, she's seeking input to help to guide the program as it becomes more established. Through this, she hopes to identify important needs in the community so that she can connect SLP students and involve them.
"It's important for students, as well as us educators, to be involved — helping and contributing to the community," she said.
The program, whose application for accreditation is currently under review by the Council on Academic Accreditation in Audiology and Speech-Language Pathology of the American Speech-Language–Hearing Association, will begin Fall 2021 with a cohort of 40 students. Applicants must have a bachelor's degree in SLP or a bachelor's degree in another area plus four SLP prerequisites.
Applications will be accepted July 15 through January 1, 2021.
"We're looking for students who are passionate about speech–language pathology who will be comfortable with the program's interactive classrooms, clinically–focused instructional methods, and immersion in medical experiences. The profession needs both medical SLPs and school–based SLPs with a solid foundation of medical knowledge. At MUSC, we're well–positioned to provide this," Bonilha said.
Suggest a Story
Have an idea for MUSC Catalyst News? Contact our editorial team and let us know.
Get the Latest MUSC News
Get more stories about what's happening at MUSC, delivered straight to your inbox.