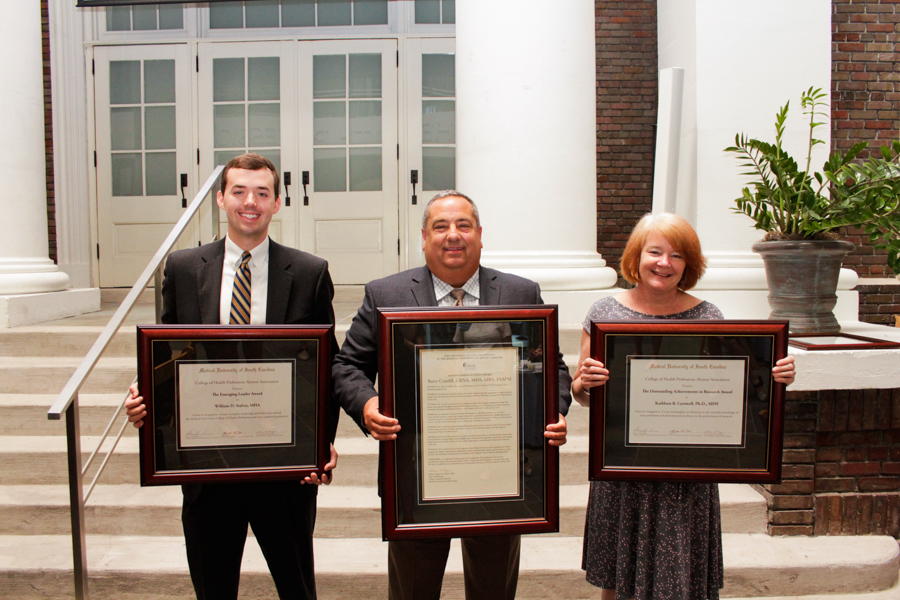 This year the Office of Alumni Affairs and the Alumni Awards Committee reviewed a record number of nominations. The numerous nominations were a true testament to the achievements and diversity of College of Health Professions (CHP) graduates.

Alumni, faculty, staff, and family members gathered in the College atrium to recognize our five honorees. They were welcomed by the Alumni Association Board of Directors, along with our Interim Vice President of Development and Alumni Affairs, Linda Cox, as well as Dr. Karen Wager, associate dean for student affairs.

Our highest honor, Distinguished Alumnus, was given in recognition of outstanding professional achievement, service to the individual's profession, the community, the College and university, excellence in leadership, professional growth, and educational advancement or service. Larry Mullins, DHA, received the Distinguished Alumnus in Health Administration Award and Barry Cranfill, CRNA, received the Distinguished Alumnus in Clinical Practice Award.

Mullins graduated from the Doctor of Health Administration program in 2003 and has been serving his community as a health care leader for nearly 50 years. Most recently, he served as president and CEO of Samaritan Health Services in Oregon. Mullins not only inspired future health care leaders through his engagement with Oregon State University, but also helped shape the way health care was delivered in a rural community faced with changing economic circumstances. Over the course of his career, he has embodied the vision of CHP through his commitment to service and his community.

Cranfill was nominated by a fellow alumnus for his "sound and compassionate care in the clinical setting to thousands of patients." In addition to his clinical work and serving as the CEO of Sentry Anesthesia, he spends many hours volunteering his time in support of nurse anesthetists and MUSC students. Prior to graduating from the College's Anesthesia for Nurses program in 1994, Cranfill was a registered nurse and served in the United States Army for six years. Throughout his career, he has been committed to helping students obtain clinical experience and is currently the clinical coordinator for four of the College's clinical sites.

Awards were also given to Patty Coker-Bolt, Ph.D., OTR/L, Kathleen Cartmell, Ph.D., and William "Bill" Stalvey, MHA, for Service, Outstanding Achievements in Research, and Emerging Leader, respectively. Coker-Bolt, Occupational Therapy Class of 1998, was able to attend the ceremony as she was on a medical mission trip in Uganda, a testament to her commitment to service. Coker-Bolt is the primary pediatric faculty for the Division of Occupational Therapy (OT) at CHP and runs Camp Hand to Hands, a therapy camp for children with hemiplegic cerebral palsy. She has been recognized on numerous occasions by the College, university, and within the OT community for her expertise, volunteerism, and global humanitarian work.

Cartmell earned her Doctorate in Philosophy in Health and Rehabilitation in 2013. Since graduating, she has been successful in every area of faculty work. She has attained grants from the National Institutes of Health, the Agency for Healthcare Research and Quality, and internally at MUSC, both as primary investigator (PI) and as co-PI. Her publication record is impressive, with 25 peer-reviewed journal articles. Cartmell actively increases MUSC's research enterprise by teaching and mentoring students within the College of Nursing and the College of Medicine's Department of Public Health Services.

Stalvey, a 2017 graduate of the Master in Health Administration program, is a business analyst for the Office of Business Initiatives & Operations Support at MUSC Health. He is regarded by his peers as having the "strongest moral character," and for staying true to himself, his values, and those he serves. Notably, Stalvey's leadership success is evident in the development of the MUSC Health Administration Alumni Network, of which he is the founding president, and the CHP online alumni directory.

The CHP Office of Development and Alumni Affairs offers congratulations to this year's award winners.
About the Author
Keywords: Awards