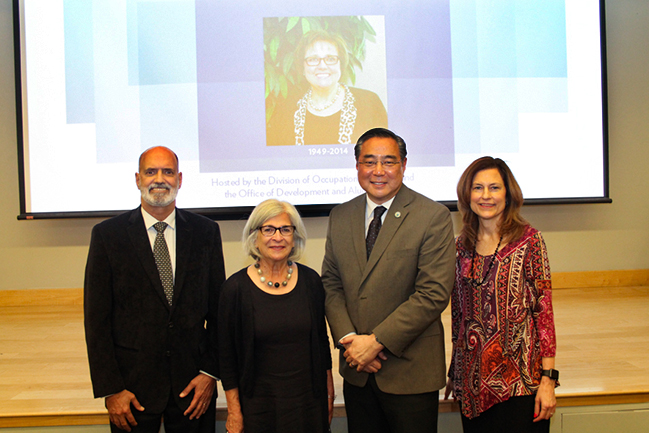 More than 150 student, alumni, and clinicians gathered at the Medical University of South Carolina (MUSC) for the Seventh Annual Maralynne D. Mitcham Lectureship. Guests travelled from all over South Carolina and beyond to attend the one-day event on July 19. This year's keynote, "Situating the Power and Relevance of Occupation in Today's World," was delivered by Janice P. Burke, Ph.D., OTR/L, FAOTA.
Burke is a well-respected thought leader in the occupational therapy field. She is one of the founders of the Model of Human Occupation (MOHO). With Gary Kielhofner, DrPH, OTR, FAOTA, she has published on the conceptual framework and content of MOHO as well as the accompanying assessment and intervention. Burke is also widely recognized for her work in sensory integration (SI) theory and in the fidelity of SI research.
"We were thrilled to offer this year's lectureship to Dr. Burke. She's a fellow Eleanor Clarke Slagle Lectureship Award winner and a historic leader in our field," said Craig Velozo, Ph.D., OTRL/L, FAOTA, director for the Division of Occupational Therapy (OT). "We were very fortunate that she agreed to present."
After the lecture, everyone gathered in the Drug Discovery lobby for the annual Medical University of South Carolina (MUSC) OT Alumni and Friends Luncheon. "It's a great way for us to stay connected with our alumni. It's exciting to have so many alumni come back each year and use the day as an opportunity for a reunion," Velozo added. "Many of them even stayed for our afternoon sessions. Our adult and pediatric tracks were both great and taught by top-notch clinicians."
In addition to the afternoon continuing education sessions, attendees were also treated to a tour of the MUSC College of Health Professions (CHP) Research Building, where they were shown the latest advancements in rehabilitation research. As the day concluded, 40 alumni mingled with faculty and guests at the wine and cheese reception hosted by the CHP Office of Development and Alumni Affairs.
About the Maralynne D. Mitcham Lectureship Fund
The Maralynne D. Mitcham Lectureship Fund was established to create, in perpetuity, an annual lectureship program for the Division of Occupational Therapy at MUSC. The fund's purpose is to honor the collegial spirit, leadership skills, and mentorship of Maralynne D. Mitcham and promote a day of sharing and fellowship for the profession of occupational therapy.
About the Author
Jessie Bradley
Director of Marketing and Communications
MBA

Keywords: OT, Photo Albums