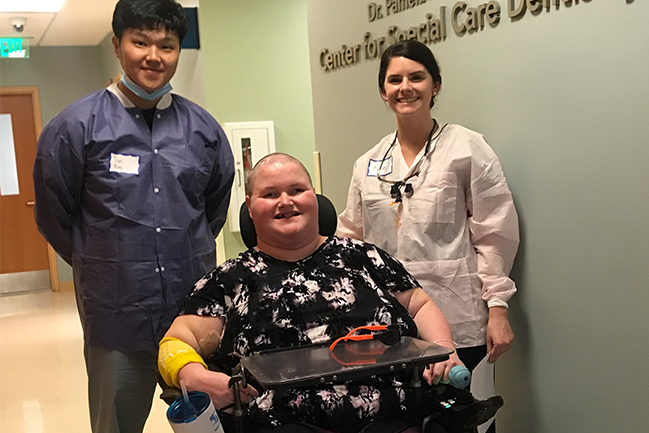 The MUSC James B. Edwards College of Dental Medicine (CDM) received a $30,000 grant from Pacific Dental Services to support the Pamela Kaminski Clinic for Adolescents and Adults with Special Health Care Needs (SHCN). The grant will be distributed over three years.
This is the first grant made to the Medical University of South Carolina (MUSC) by Pacific Dental Services (PDS), a company headquartered in Irvine, California, that provides dental support services to more than 750 dental practices nationwide. The PDS Foundation runs a special needs clinic in Phoenix, Arizona.
"Special needs care is something that is very important to our organization, so we are very excited to support the special needs clinic at MUSC," says PDS University & Clinician Communications Manager Rebecca Sorci. "We hope this grant can help to make dentistry more accessible to people with special needs through training and advocacy."
The special needs clinic at MUSC offers a uniquely designed clinical space that provides for a wide variety of patients. This includes those with intellectual, developmental, and physical disabilities, as well as medically complex needs, ranging from adolescents with autism to seniors with Alzheimer's disease or dementia.
"This grant is so important to our special needs clinic," says Michelle Ziegler, D.D.S., assistant professor, and faculty supervisor of the clinic. "Already we have been able to purchase additional instruments and hand pieces, which enabled us to open another few sessions a month – so we can serve more patients and provide student and resident experiences. Literature consistently shows that the more students are exposed to patients with special health care needs in a clinical setting, the more likely they will continue to treat these patients after graduation."
The grant has also supported the purchase of a full-body weighted blanket to help reduce anxiety in patients with autism and other sensory conditions.
Care in the special needs clinic is delivered by dental students, residents of the Advanced Education in General Dentistry program and experienced CDM faculty members. Residents and faculty in specialty departments within the college provide specialty care.
The clinic was designed with many special features, including:
Large exam rooms that can accommodate wheelchairs and stretchers and can be closed off.
Nitrous oxide.
Stabilization equipment.
A wheelchair access station.
Two-way windows that allow for observation without distraction.
Ability to play music at the patient's request.