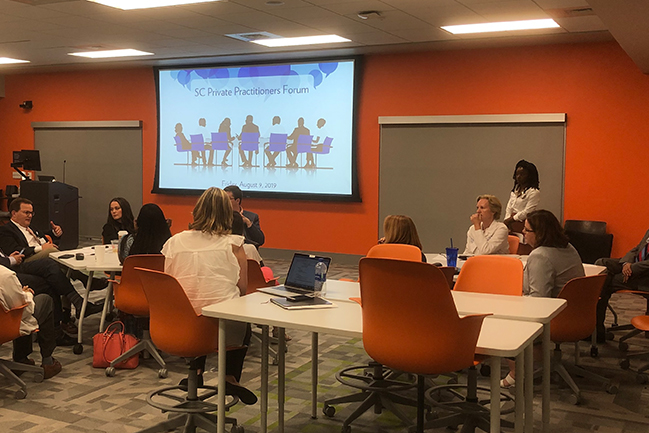 On Friday, Aug. 9, the MUSC James B. Edwards College of Dental Medicine (CDM) hosted the South Carolina Private Practitioners Forum. The goal is to gain insight from those in private practice on current industry trends and to hear what practitioners think a beginning general dentist should know upon graduation. 
The forum began with a welcome from Dean Sarandeep Huja, followed by an overview of the curriculum by curriculum chairman, Joe Vuthiganon, D.M.D., and Director of Education Lindsey Hamil, Ph.D. Faculty members then presented updates and highlights about the predoctoral curriculum from all departments. During the second half of the program, Joni Nelson, Ph.D., Department of Public Health, led a discussion on common private practice procedures, practice management, and the future of dentistry.
Information gathered at this forum will be used to enhance CDM's predoctoral curriculum and ensure our graduates are prepared for their careers. Our dean and faculty members are extremely grateful to the following alumni for their invaluable participation: Drs. Jamie Cokley '13, Jessica Gower '10, Chris Griffin '93, Daniel Hall '15, John Reese '88, and Reid Warren '08.