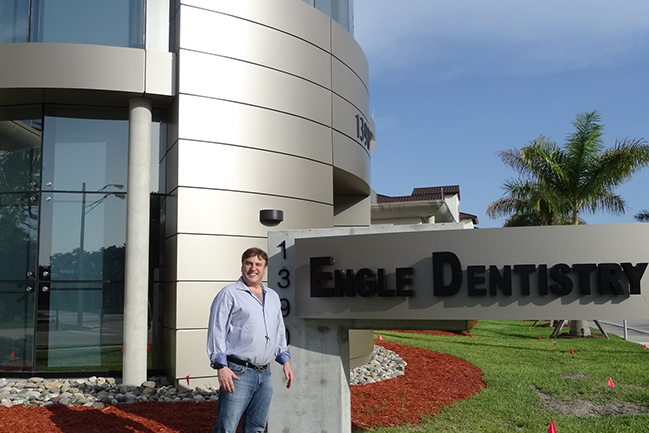 Bradley Engle, D.M.D., a periodontist in Naples, Florida, and a graduate of the MUSC James B. Edwards College of Dental Medicine, pledged $50,000 toward MUSC's periodontics fellowship program. Engle earned his Doctor of Dental Medicine in 1996, his Master of Health Science in 1999, and his certificate in periodontology in 1999, all at the Medical University of South Carolina.
This is not Engle's first contribution to MUSC, as he has given dental supplies, money, and his time to the school over the past 20 years. Engle is a board-certified periodontist and founder of Engle Dentistry, a multi-specialty dental practice with three locations in the Naples area.
"It is important for us to remember where we came from," Engle said. "I have never forgotten the relationships I had with my professors — people like Dr. Gellin, Dr. Sanders, Dr. Hamrick, Dr. Javed, Dr. Ivy, Dr. Rivers, and so many others. Each of them showed a commitment to me while I was a student at MUSC. They gave me a chance and laid the foundation for me to start my career and become successful. This is my opportunity to show that same level of commitment to current and future students."
Engle's gift will support the post-graduate residency program in periodontology.
"We are grateful for Dr. Engle's gift, and plan to use it to help fund our residents' access to continuing education while they are at MUSC," said Michael Cuenin, D.M.D., associate professor and director of the graduate program in periodontics. "Our students are members of the American Academy of Periodontology, and it is so valuable for them to attend the national and district meetings to learn new things and network with other periodontists. They need to form those connections now. It is really about helping residents launch themselves into their careers when they leave us."
The relevance of MUSC's periodontology program continues to grow, according to Amy Martin, Dr.P.H., M.S.P.H., professor and chairwoman of the Department of Stomatology.
"We are discovering new links between inflammation and systemic disease, so the need to treat periodontal disease is even more critical now," Martin said. "And as our population ages, so does the rate of periodontal disease. Further complicating this epidemic is a decrease in the number of periodontists in South Carolina. That is why it's so important for us to equip our students with skills to develop strong collaborative care partnerships with primary care providers. One way we can do that is to build and strengthen our alumni network so that people like Dr. Engle can share their resources and experience with the residents, connect with students and the program, and stay engaged."
Engle encourages his fellow graduates to get involved.
"The success of every student has a foundation that starts at MUSC, so remember where you came from. Do something. Give back. Make some kind of commitment. It's easy," Engle said.
Martin would like to extend a personal invitation for alumni to connect with her to discuss ways they can work together to address the growing need for periodontal care, tour the college, and see first-hand what sets MUSC's periodontal residency program apart.
"Together, we can meet the needs of our population and elevate the quality of dental and medical care in our state and beyond," Martin said.
To reach Martin, please email martinamy@musc.edu or call 843-792-8270.