At 27, Mohammed Dany will be the youngest-ever graduate of the Medical Scientist Training Program at the Medical University of South Carolina. The average age for finishing that program is 32. It's intense — the students are earning both M.D. and Ph.D. degrees.
"I've always set very high ambitions for myself," Dany says. "I think that's important if you want to be successful."
Successful, he definitely is. After graduation, he heads to Brigham and Women's Hospital at Harvard Medical School for a year of internal medicine, then it's on to the University of Pennsylvania for a highly competitive dermatology residency.
"I'm glad I got the best of both worlds. The University of Pennsylvania has the strongest dermatology program in the country. I'm glad I'll be joining a department that has more than one expert in every field. They have a good history of training successful clinicians, physician scientists and leaders in the field."
Dany's mentors say he'll be an asset wherever he goes, not just as a smart doctor with expertise in both dermatology and cancer research but also as a kind man.
Samar Hammad, Ph.D., an associate professor in the Department of Regenerative Medicine and Cell Biology, had Dany as a student in a lipid and pathobiology class. "He was not only the most active student and really brilliant — he noticed that his abilities are ahead of his colleagues so he helped everyone understand. You can see the teamwork behavior was part of his natural behavior. He wasn't faking it or doing it just for grade purposes."
She got to know him well outside the classroom as well and says he's now like a son to her. "He's very approachable."
But he's also clear on his priorities, Hammad says. "Dany knows how to say no, and that's what I like about him. You might think people can take advantage of him, but he knows what he's doing. Because he's brilliant, he is very time efficient. He gets it very fast and acts very fast and is done very fast. Not too many of those you meet in your lifetime."
Besim Ogretmen, Ph.D., professor and SmartState endowed chair in lipodomics and drug discovery, had Dany in his lab for his Ph.D. thesis research at MUSC Hollings Cancer Center.
"Dany represents a true physician scientist who deeply cares about people and would do anything to help his patients using cross sections of clinical and basic research," Ogretmen says.
"In addition to being a bright physician scientist, Mohammed is a kind and compassionate person who makes friends with anyone without any hesitation. I feel very lucky to know and mentor Mohammed. I am confident that he will represent my group as well MUSC with great success in his future endeavors."
Bruce Thiers, M.D., a professor in MUSC's Department of Dermatology and Dermatologic Surgery and president of the American Academy of Dermatology, agrees. "Mohammed has compiled an exemplary record at MUSC as both a researcher and a clinician. He has matched into one of the premier dermatology residency programs in the country. I have no doubt he will be a future leader in academic dermatology."
Dany does want to continue to do research as he practices medicine. "I want to be a physician scientist in the setting of an academic institution. Hopefully in the long run I'll do some administration, maybe be a chair of a department or be involved in the dean's office somehow and have some impact on the future of medical students or residents or Ph.D. students.
"That's how I like to organize my time eventually. Clinic, research and administration, all three together."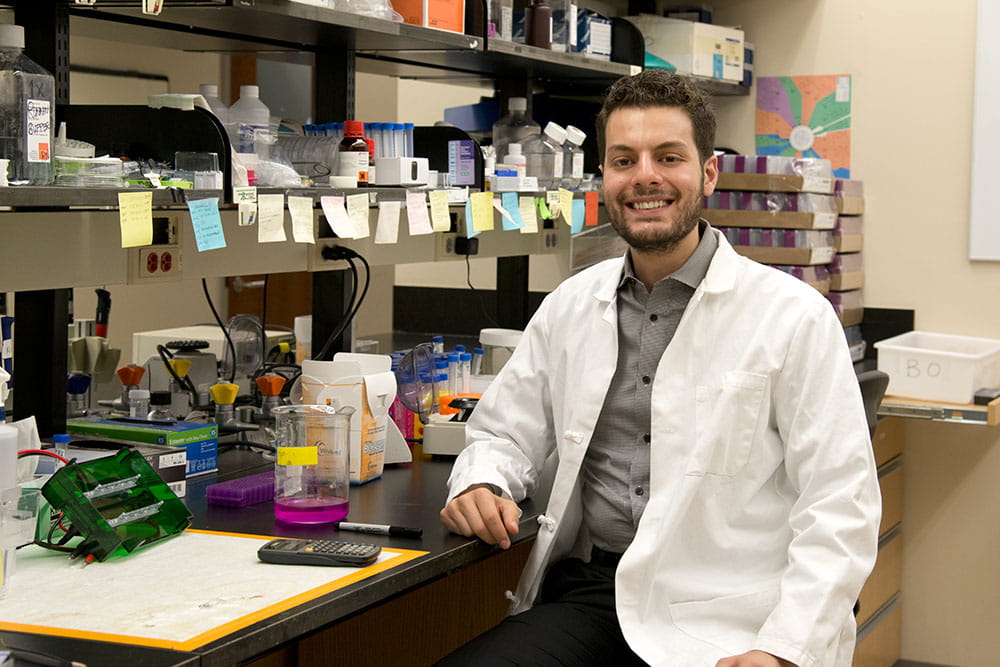 Dany is a long way from where he grew up in Lebanon in the Middle East, the son of a science-loving mother and a father who has a Ph.D. in Arabic literature and runs a business. They raised him to treat others the way he'd like to be treated.
"I like to be greeted with a smile and have someone to be easy to talk to. That's why I always behave this way. My father emphasized that. He's a very popular figure in Tripoli and he's popular because of how easy he is to talk to, even though he's a very renowned, successful person there. Everyone can just knock on his door and talk to him."
Dany majored in biology at the American University of Beirut and started medical school. "During my first year, I switched career plans and decided to become a physician-scientist instead of a clinician only. This is when I started looking at M.D./Ph.D. programs in the United States."
The American University of Beirut has a partnership with MUSC, with a memorandum of understanding established in 2003 to bring some of Lebanon's top medical students to South Carolina to train as physician-scientists. Dany applied and won a spot. It was a big change for him.
"Charleston is a smaller city than Beirut. There are not as many people around. The first year I'd say was a little bit lonely. I did not know anyone here, I have no family here, but I made friends of different ages. I even have a friend of 80 years of age which I love so much and we're still in touch. After the first year it felt like home."
Dany will leave MUSC with the Distinguished Graduate Award, which is the equivalent of valedictorian of the College of Graduate studies, and the President's Clinical Science Award, which goes to medical students who shine not only academically but also in the way they interact with patients and colleagues.
He'll also take with him memories of a place he's grown to love. "Charleston is still home. I'm going to miss this place a lot."