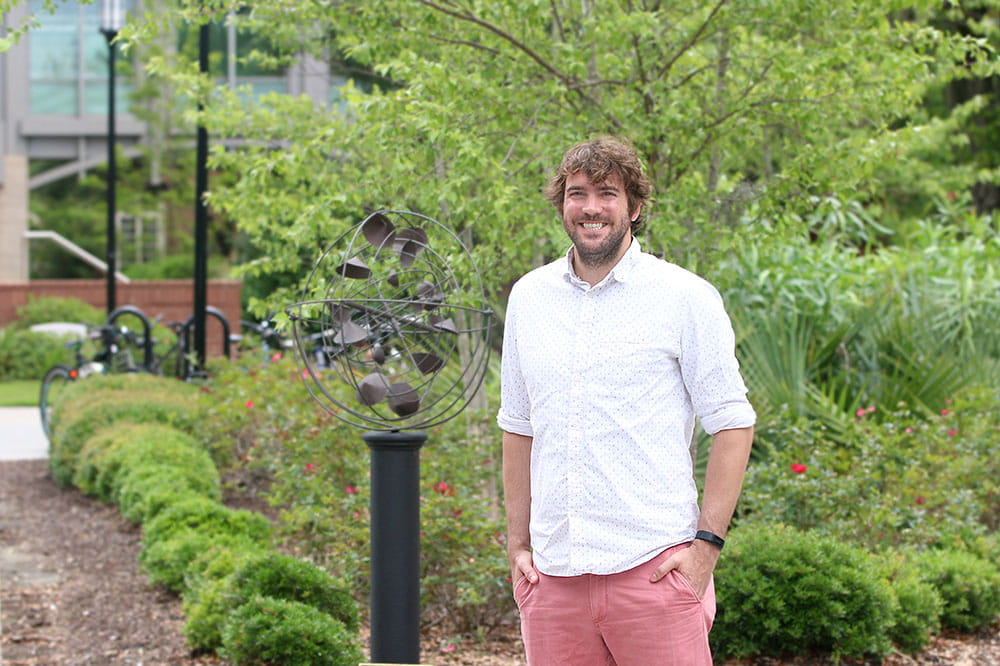 Neurology clinical scientist Ali Alawieh and neuroimaging researcher Logan Dowdle are co-recipients of the College of Graduate Studies' 2019 Distinguished Graduate of the Year Award. They share a passion for neuroscience and possess a deeper understanding of the brain through collaborations and research. Each will receive $500 and an invitation to return to campus on Aug. 20 to present at the annual Liz Chesterman Memorial Lecture to incoming doctoral students.
Logan Dowdle
Logan Dowdle's path to MUSC was not so simple, but long and winding. 
Like the determined Andalusian shepherd boy Santiago in writer Paulo Coelho's novel "The Alchemist," Dowdle is the protagonist of his life's journey. He attended Clemson University in 2005 and after changing majors several times, graduated with a degree in marketing with a minor in psychology. Responding to his love for travel, natural curiosity and an opportunity to repay his college loans, Dowdle took a job teaching English to preteens in the Buk District of Daegu, South Korea, through the government's English Program in Korea (EPIK). He knew he wanted to challenge himself by traveling abroad and soon discovered a love for teaching. After classes, he led after-school programs, English camps and other conversational practice activities with the students.
"It was a fun and rewarding experience," said Dowdle. "Mostly, I could help them by just being myself and having conversations."
Although teaching in the EPIK program was both an eye-opening and satisfying experience, Dowdle realized it wasn't a job he could see himself doing long term. Prior to returning to the United States, he worked a month-long volunteer job at a wildlife refuge near Santa Maria, Bolivia.
The Comunidad Inti Wara Yassi–Parque Ambue Ari houses about 70 indigenous species of wildlife — jaguars, cougars, tapirs, primates and birds. Many have been rescued from abusive situations as well as animals seized in government raids or sold on the black market. At the private wildlife sanctuary, the animals were cared for and kept to rehabilitate or reintroduced to the wild. Dowdle loved playing with and caring for the preserve's howler monkeys and grew to enjoy afternoon walks with Rupi, a 260–pound male jaguar who also resided at the remote preserve.
It was during Dowdle's down time and at night that he would read science essays and books about neuroscience and neuropsychology written by V.S. Ramachandran, Oliver Sachs and other authors that he uploaded to his Kindle reader. He never thought his "ah-ha" moment would speak to him through their inspirational words, stories and concepts from his readings in the jungle.
"This was the inspiration that I've been searching for," he recalled thinking. He was ready to explore the detailed side of neuroscience, including research that would prove the concepts and explore the theories he'd read about.
Fast forward to 2010 and Charleston, where Dowdle had relocated. In the middle of his third semester catching up on core science courses, he was accepted into the College of Charleston's neuroscience minor program and quickly looked for a job that would give him some much–needed lab experience. That fall, he interviewed as a part-time research technician with Jacqueline F. McGinty, Ph.D., professor in the Department of Neuroscience and director of the MUSC Neurosciences Institute. McGinty's research focuses on neurobiology of the brain and addiction science research with animals.
"Logan quickly became indispensable to all my lab members, because everyone learned that if you asked Logan to do something, he would not only follow through reliably but he'd do it better and more completely than anyone else. He would constantly surprise us by looking for ways to improve any technique or process he undertook," said McGinty.
But McGinty knew his interests would fit better with human research, so she encouraged him to apply to MUSC's Summer Undergraduate Research Program, which he completed in 2013. A year later, he was accepted into the Ph.D. program in the College of Graduate Studies. McGinty then introduced him to mentor Colleen Hanlon, Ph.D., who conducts brain stimulation and addiction science research in the Department of Psychiatry and Behavioral Sciences' Division of Addiction Sciences Research. Hanlon's team looks at the brain's response to noninvasive forms of stimulation and cue–induced craving  to develop new treatments.
"What's so amazing is that we have the ability to look at the human brain in unique ways — as it thinks, views things, as it feels — and capture an aspect of that, gather data and measure the outcomes," said Dowdle.
To accomplish this, Dowdle focused his interests on neuroimaging or brain imaging using functional MRI (fMRI). With the help of imaging scientists from Hanlon's lab and the MUSC Center for Biomedical Imaging leaders Jens Jensen, Ph.D., professor of neuroscience, and Truman R. Brown, Ph.D., professor of Radiology and the Stephen S. Schabel Endowed Chair in Radiology, Dowdle was able to get invaluable hand–on training using the Siemens 3T Prisma  MRI scanner to conduct human imaging research.
Using transcranial magnetic stimulation (TMS), researchers like Hanlon, Dowdle and others can use brain stimulation to change the brain's response to pain, alcohol, opioid use and other substances.
"Logan is uniquely gifted as a student — intellectually facile, with an insatiable thirst for knowledge, and fearless when it comes to navigating a new frontier," said Hanlon. "In his time in our lab, he has transformed our entire workflow associated with acquiring and analyzing large neuroimaging datasets. He has also enhanced the experimental rigor and reliability of TMS–MRI techniques worldwide though his development of a novel sham control condition."  
Coming full circle
On April 16, Dowdle successfully defended his doctoral research on "Developing a Brain-Based, Non-Invasive Treatment for Pain." The next stop on his journey has him traveling 1,300 miles north to the University of Minnesota's Center for Magnetic Resonance Research (CMRR), where he will establish a new TMS-MRI interface for continued brain imaging research — eventually expanding his research to a multi-site trial. He will join fellow Ph.D. graduate Daniel Lench who will conduct brain stimulation research also at the CMRR.
Never in his plans did Dowdle think he would reach his dream shot at the CMRR. As he sought more brain imaging experience, he started to believe that his dream was not far from his grasp.
Today, he sees his odyssey coming full circle in both experience and opportunities. Looking back, he credits the encouragement of mentors, imaging research faculty, colleagues, friends and family along the way who help to build and sustain him on what's been an arduous but gratifying adventure.
"I think the richness of Logan's journey thus far — from a small town in North Carolina to schools in Korea, the jungles in Bolivia and cutting-edge research labs at MUSC — reflects something greater about the way that his mind works," said Hanlon. "Some graduate students, for example, start on one experimental path and pursue that specific path with a strong focus. Logan, on the other hand, thinks broader and with more flexibility. He seems to enjoy the process of discovery even more than arriving at the final destination."
Hanlon compares her mentee's journey with the words written by American poet Robert Frost in "The Road Not Taken."
"Two roads diverged in a wood, and I — I took the one less traveled by, And that has made all the difference."
"It has been a pleasure to be by his side as we walked this part of his journey together,"
Suggest a Story
Have an idea for MUSC Catalyst News? Contact our editorial team and let us know.
About the Author