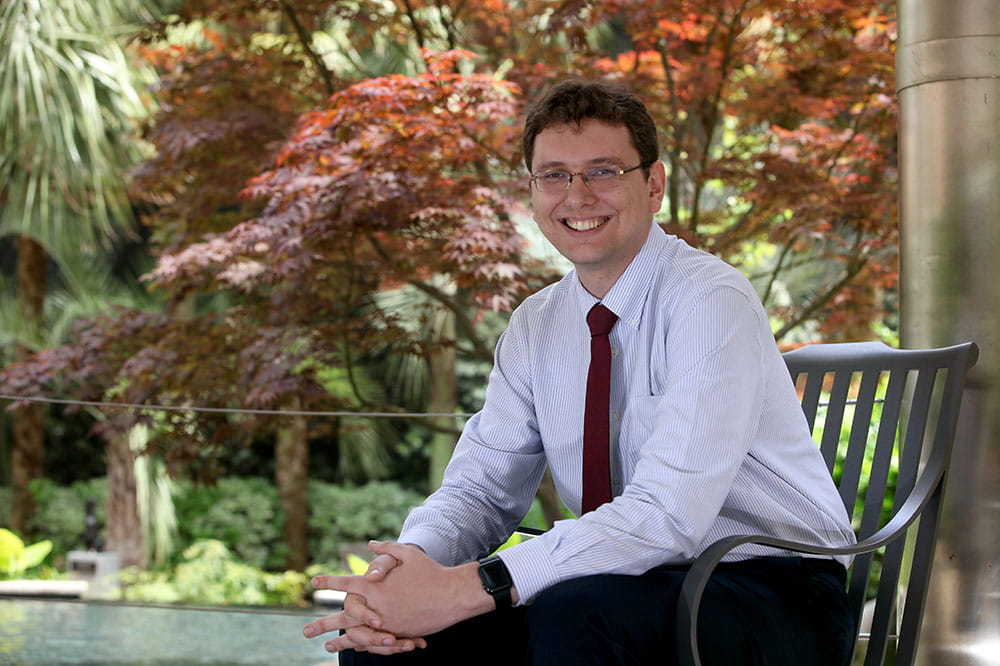 Alex Novgorodov has a problem, and he knows it. But it's the kind a lot of us wish we had. "It's kind of a struggle, because I'm the kind of guy who loves to raise his hand whenever there's an opportunity to help. Sometimes it's hard to stop and think about, 'Hey, do I have time in the day?'"
Usually, for this College of Pharmacy student who will graduate on May 18, the answer is yes. His can-do drive has led to multiple leadership positions at the Medical University of South Carolina, a near-perfect grade point average and an upcoming residency at LifePoint Health in Nashville, Tennessee. To put that into perspective, only about half of all pharmacy students who apply for a residency get one.
"He is incredibly bright," says Cathy Worrall, associate dean for student affairs and experiential education in the College of Pharmacy.
Novgorodov is the son of two MUSC researchers, Tatyana Gudz and Sergei Novgorodov. The family moved to the U.S. from Moscow, Russia, when he was 3 years old.
"We lived in Columbus, Ohio, a little bit, then lived in Cleveland for about a decade, then moved down here. Both my parents are researchers, so they went where the grant money was. And I got to experience a lot of different kinds of schools, from underfunded schools to going to a private school on scholarship," he says.

Novgorodov went to the University of North Carolina at Chapel Hill and graduated in three years with a degree in biology. He then finished two years of medical school before deciding pharmacy was a better fit. "My classes on pharmacology were always my favorites."
So he backtracked, taking prerequisite courses required for pharmacy school and applying to MUSC's College of Pharmacy. "I started there and really loved it."
Novgorodov also helped his parents edit their research articles for publication in the Journal of Biological Chemistry and the Journal of Lipid Research — and managed to find time to serve as a campus leader.
"I thought I brought a different perspective to things, and I was really excited about the opportunities offered to me. I ended up running for student representative initially and getting that position in student government, and I tried to make the most of it."
He ran for other positions as well, at one point serving in six or seven leadership positions at the same time. "That may have been too many all at once," he says with a laugh. "But I always tried to do something new."
Trying new things is one of his strengths. So is his ability to analyze data. Novgorodov has specialized in pharmacy informatics at MUSC, a field that focuses on collecting and analyzing medication-related data to help doctors make the best decisions for their patients.
"I started a new internship position with our pharmacy information solutions group that does a lot with Epic. I volunteered with them." Epic is the electronic medical record system MUSC uses.
"It counted toward my pharmacy license. They actually offered me a job, which they'd never done before. I got Epic training. I don't think there are any other students in the country who have had Epic training. Another student came behind me, and he got it too, through my proposal."
Novgorodov will use his informatics training during his residency in Nashville. LifePoint Health has about 90 hospitals in 35 states – just the kind of network he'd been hoping to become part of. "If I'm able to work with a team of people on big projects where we make an impact on a health care system, that's kind of my dream.
College of Pharmacy professor Kelly Ragucci says Novgorodov will stand out anywhere he works. "Alex is one of the most mature and thoughtful students that I have had the pleasure to teach. He is well on his way to a distinguished career in the profession of pharmacy."
He'll take with him fond memories of the campus where he started out thinking he'd go in one direction, medicine, then found his true professional calling in pharmacy. "I've loved it here. I just love the people more than anything else. I think the faculty, the culture surrounding education here is wonderful. Everyone's always there to help you out," Novgorodov says.
Suggest a Story
Have an idea for MUSC Catalyst News? Contact our editorial team and let us know.