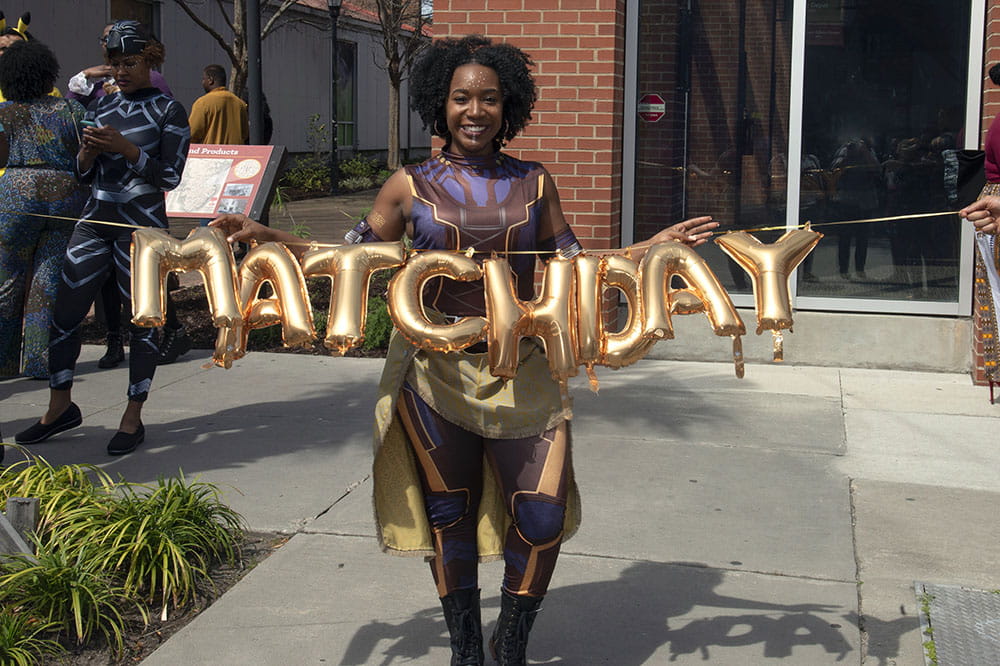 While all his friends were out having a good time, Blair Lowery was breeding Labrador retrievers and studying genetic markers.
He was 12 at the time.
"I guess I kind of always knew I wanted to be a doctor," he said with a laugh.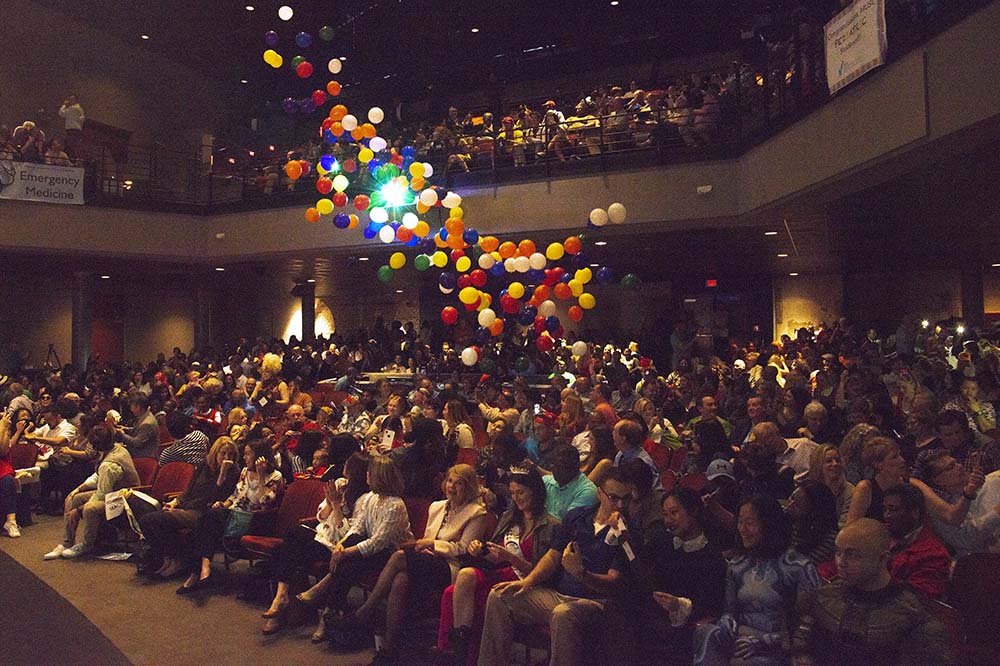 On Friday, Lowery was one of 167 students from the Medical University of South Carolina College of Medicine's graduating class who participated in the 57th annual Match Day at Charleston Music Hall. Match Day, which occurs on the same day at medical institutions all across the country, marks the end of a months-long process that pairs graduating medical students with hospitals for their residencies. The students rank their top choices, and the hospitals do the same. The students didn't find out their matches until today.
This year's theme was fictional characters. In the crowd were the likes of Super Mario, Indiana Jones, Minnie Mouse and Wilson the volleyball from "Castaway." It was a regular who's who of make believe. The packed house listened intently as Princess Leia, aka Donna Kern, M.D., senior associate dean of the College of Medicine, said, "Today we celebrate your accomplishments and pause also to acknowledge not only your hard work but those who have carried you through this training academy experience."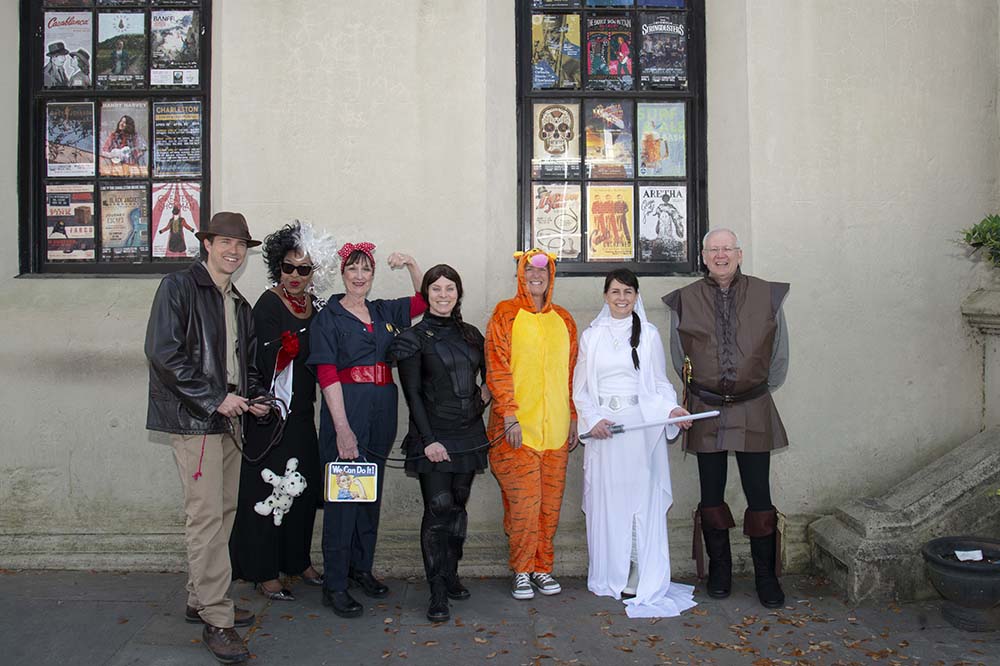 After her brief remarks, Kern, along with College of Medicine dean Raymond DuBois, M.D., Ph.D., counted down to zero, at which time all the students were finally able to open their sealed envelopes containing the location of their matches.
Lowery got his first choice: University of California, San Francisco.
Melissa Koci, dressed as Effie Trinket from "The Hunger Games," shared her take on the entire experience.
"Oh baby, my nerves are shot. This has been way more of an emotional burden than I ever would have imagined. We spend an entire year trying to sell ourselves to 10, 20, 30 programs. And then we have to rank them. And then we have to wait forever to find out where we're going to spend the next eight years of our lives. I have had crippling anxiety and nausea for the last several weeks."
In fact, she was so nervous that when she first arrived, she forgot to pick up her envelope. Luckily a friend reminded her and when the time came to open it, her anxiety was allayed when she discovered she was going to one of her top picks: Baylor University.
"I have a lot of trust in myself to reach out and build a community wherever I go. So I knew wherever I landed, 'I will make you love me.' I don't think I can overstate how excited I am to be going to Dallas," she said.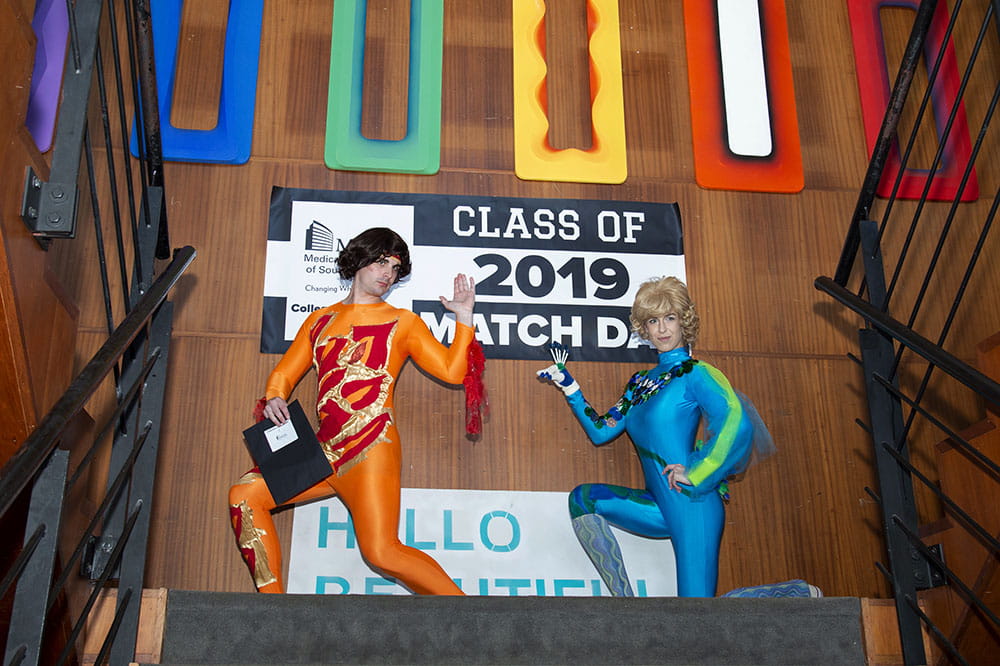 Walker and Dena Blanding — who met five years ago in undergraduate school and got married a little over a year ago — raised the degree of difficulty even higher by applying for a couples match, meaning they essentially needed to both match with one of their top choices – and they needed to be in the same city.
As fate would have it, MUSC wouldn't let them get away. She will be staying on in internal medicine and he in thoracic surgery. 
"It's just a relief," Dena Blanding said. "To know the person who matters most to you is going to be right there with you — it's pretty special." Walker agreed: "I don't think I can overemphasize how fortunate we feel. Home field advantage is a wonderful thing."
The national average for matching is typically around 94 percent. This year, MUSC had a 99 percent match rate, one of its best years ever. Students were accepted to do residencies at universities like Johns Hopkins, NYU, Brown and Duke. Of the 167 who matched, a total of 55 (33 percent) will remain in South Carolina, with 40 of them staying at MUSC.
"I feel like the stress probably shaved 10 years off my life," Koci said. "But there is no place I'd have rather been than right here with these people."
Suggest a Story
Have an idea for MUSC Catalyst News? Contact our editorial team and let us know.
About the Author