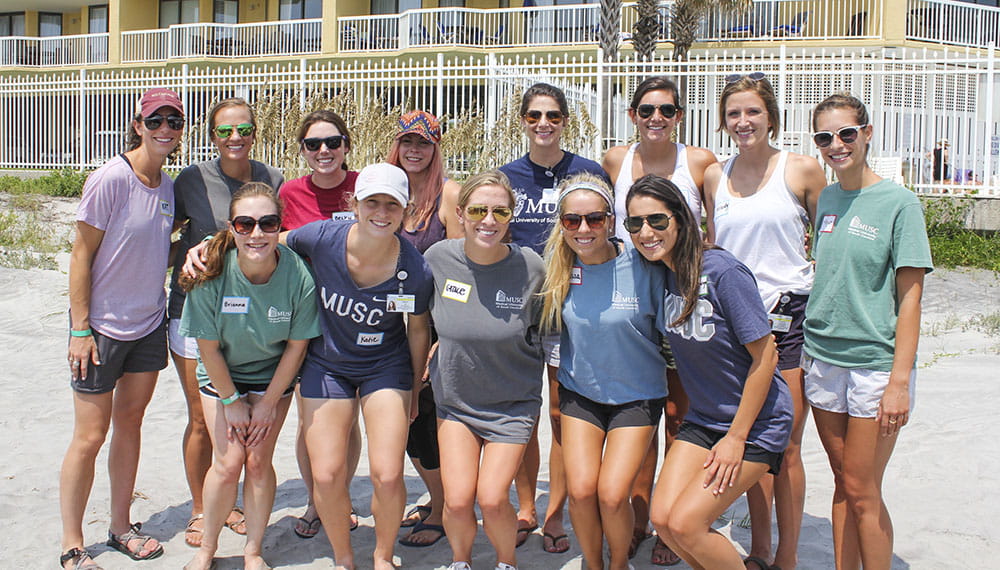 Wearing flip-flops instead of carrying laptops, the first day of class for some occupational therapy students was literally a day at the beach. Their professor, Patty Coker-Bolt, held class at Folly Beach so her students could help with an event that brings professional surfers to town to give children with autism a day of fun in the ocean.
"It's a real Charleston moment about participation," Coker-Bolt said.  
Surfers Healing, an international nonprofit organization that hosts camps at beaches across the country and abroad for children with autism, was in the Charleston area to help more than 100 kids learn to surf. Coker-Bolt, a professor in the College of Health Professions at the Medical University of South Carolina, saw it as a great opportunity.
"When kids were not surfing, the organizers wanted a place for kids to be able to keep themselves occupied. We had a big tent area with bubbles and tunnels and sand activities. Our students were out there engaging the kids when they weren't surfing."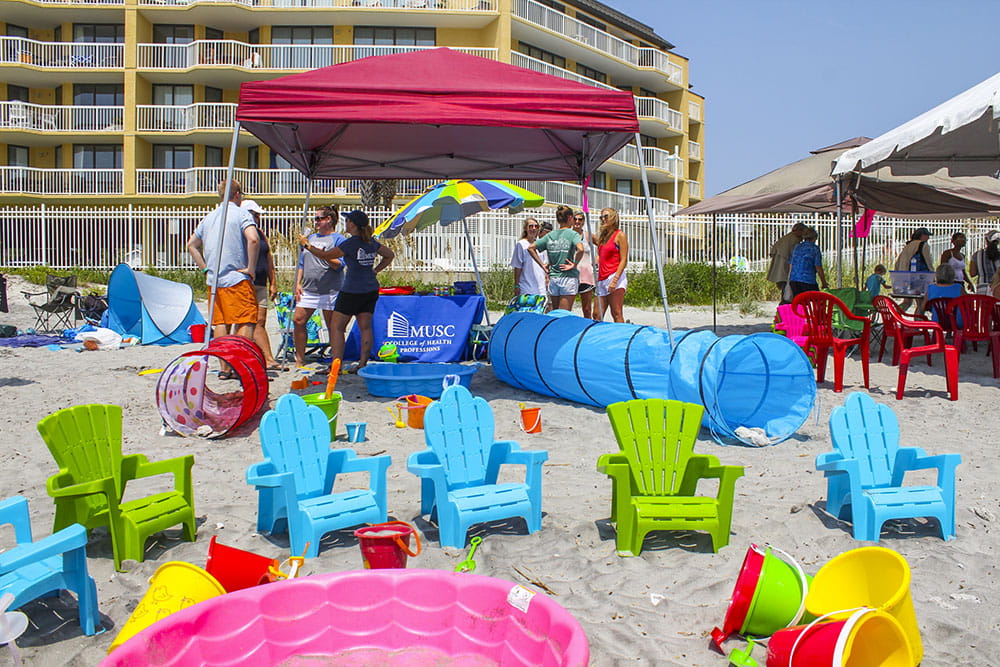 It was a chance to get a glimpse of what their lives as future occupational therapists might hold. "The large percentage of our graduates go into pediatric therapy," Coker-Bolt said. "They can work in the school system, they can work in an outpatient clinic, they can work in home health or early intervention or they can work in a children's hospital. With the prevalence of autism, they're going to work with children with autism and their families if they go into pediatrics therapy."
The students got to see how some children with autism can achieve amazing things with the right kind of help. "You can tell, sometimes, the kids were really apprehensive. They had to wear a protective flotation device around their neck. They had to go out in the water and the waves were hitting them. I think about children with autism and the sensory processing issues and challenges dealing with noise and  crowds," Coker-Bolt said.
"The surfers just pick the children up, put them on the board and start surfing. It's so nice to see. Every time they took them out, each child got a little more independent, a little more confident. Some kids went from starting on their knees on the board to standing on the board. What a showcase for each child's unique skills and capacities to overcome challenges."
Coker-Bolt said graduates of MUSC's College of Health Professions helped launch the Charleston area's participation in Surfers Healing. She has asked her students to volunteer for last three years. "Finding great community activities that our children with disabilities can do and support them doing it is so important for our children and their families."
About the Author