Golden graduates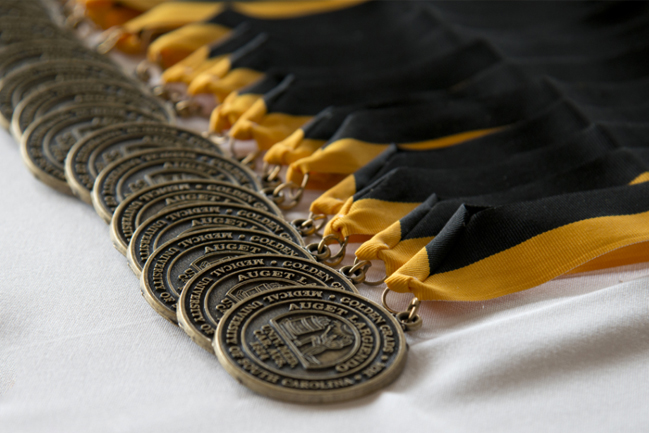 Welcome Golden Graduates!
The MUSC Alumni Association is honored to recognize you and fellow graduates of the class of 1970 as we celebrate your 50th anniversary. Join us May 14 through 16 to make new memories and reconnect with classmates and friends!
Hotels
The Courtyard by Marriott Charleston Waterfront, at 35 Lockwood Drive, has blocked off rooms for the Class of 1970 at the following rates:
One king bed, Standard: $229 + tax
One king bed, Waterview: $239 + tax
Two queen beds, Waterview: $239 + tax
Lock in your rate by booking online now or use code "Golden Grads" when reserving your room by phone at 843-722-7229. We're excited to celebrate your 50th reunion! 
Schedule
Thursday, May 14
Welcome Dinner
Country Club of Charleston | 1 Country Club Drive
6 to 8 p.m.
Kick off your reunion weekend with a casual dinner with your fellow Class of 1970 alumni and friends. Reconnect and share stories from your days as a student at MUSC and the years following. Shuttle buses will arrive at the hotel at 5:15 p.m. for boarding and will leave promptly at 5:30 p.m. Dress is business casual. 
Friday, May 15
Golden Graduates Program and Luncheon
Founder's Hall | 1500 Old Towne Road
10:30 a.m.
Join Brian Fors, Curator of the Waring Historical Library, for a stroll down memory lane as he takes you back to 1970 at the University. Shuttle buses will arrive at the hotel at 9:45 a.m. for boarding and will leave promptly at 10 a.m.
12 p.m.
We will honor all MUSC class of 1970 graduates with a medallion and induction into the Golden Graduates Association. Dress is coat and tie for the gentlemen and pantsuit or dress for the ladies.
Saturday, May 16
Continental Breakfast and Robing Courtyard by Marriott | 35 Lockwood Drive
| | |
| --- | --- |
| 6:30 a.m.  |  Continental breakfast and robing in your cap and gown |
|  7:15 a.m. |  Group photo before boarding the buses |
|  7:30 a.m. |  Buses will arrive at the hotel for boarding |
|  7:45 a.m.  |  Buses will leave promptly for the North Charleston Coliseum  |
|  8:15 a.m. |  Arrival at the North Charleston Coliseum and guests are seated for commencement |
|  8:45 a.m. |  Golden Graduates are seated for commencement |
Parking will be available at the hotel for participants who live in the local area. Everyone is encouraged to use the shuttle to the coliseum to avoid confusion and to stay on our tight schedule. 
Commencement
North Charleston Coliseum | 5001 Coliseum Drive
9 a.m.
Don't miss this once in a lifetime opportunity! Graduates from the classes of 1970 will join the academic procession during Commencement 2020. Family and guests are invited to attend as well. A special seating area will be designated for them so be sure to let us know how many folks are attending with you.  
Everyone is encouraged and welcome to march at commencement.  As you know, this is a big day for our graduates so we ask that you make your decision to participate very carefully and understand the commitment involved. Once you are there, you will not be able to leave until the very end. THERE WILL BE NO LEAVING EARLY UNLESS IT IS AN EMERGENCY.
The buses will take all Golden Grads and family back to the hotel after commencement at approximately 11:30 a.m.  If you decide to march, it is imperative that you register for this activity by the registration deadline so that regalia can be ordered for you.  Regalia for registrations received after the deadline cannot be guaranteed.
Memory Book Questionnaire
Your classmates want to know what you have been doing since your days at MUSC.  Please take a few moments to fill out the questions below and return this form so that you are included in our special 50th anniversary memory book. 
The information you provide may appear exactly as written, although the editors reserve the right to edit for typos or clarity. 
Send completed questionnaire and photos no later than February 14, 2020 to be included in the memory book.
Photographs
Please provide a "now" and a "then" photo to be included in the book.  If you do not send a "then" photo, we will try to use one of your old yearbook photos.
To email digital photos: Please send high resolution (at least 300 dpi) photos at full size to petroske@musc.edu and indicate in the email subject line: "Class of '70 Memory Book photo."
To mail print photos:  Please be sure that each photo is labeled with your full name. If you choose to send a print from a digital photo, please be sure that the photo is printed on photo-stock quality paper. Desktop printer and paper printouts do not reproduce well, nor do photocopies of photos. Send your photos to:
Class of '70 Memory Book Photo
MUSC Alumni Association
268 Calhoun Street, MSC 182
Charleston, SC 29425
All photos will be returned following the reunion.